Easy Teriyaki Chicken Recipe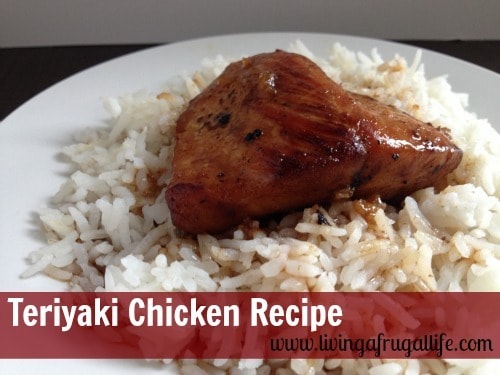 Creator:
Melissa @ Living a Frugal Life
Recipe type:
dinner, chicken
2½ - 3½ lbs Chicken, cut breasts in half
Rice
Sauce:
¾ Cup Soy Sauce
¼ Cup Sugar
¼ Cup Water pr White Wine Rice Vinegar
2 tsp grated Ginger (fresh or store bought)
1 small clove garlic crushed
Wash chicken and pat dry
Make marinade by combining sauce ingredients in a bowl.
Place chicken in a shallow bowl or pan and pour marinade over chicken.
cover and refrigerate to marinade up to 3 hours, turning occasionally
Preheat pan with enough oil to keep the chicken from sticking and brown chicken quickly.
Take chicken out of the pan and in remaining marinade.
Cover pan and bring to a boil. Then turn down and simmer for 1 hour.
Serve over rice.
Recipe by
Living A Frugal Life
at https://www.livingafrugallife.com/easy-teriyaki-chicken-recipe/