Healthy Banana Bread Recipe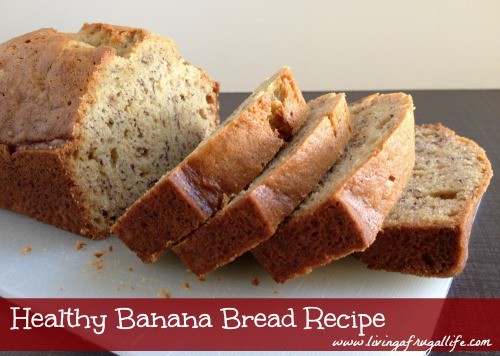 Creator:
Melissa @ Living a Frugal Life
Recipe type:
Breads, Breakfast
2 Bananas
2 eggs
¼ tsp Salt
2 C flour
½ C Sugar
½ C Brown Sugar
½ tsp Baking Soda
½ tsp Baking Powder
½ C Canola Oil
Optional ½ C Chopped Nuts or Berries
Put bananas in mixer and mix until smooth.
Add all other ingredients and mix.
Add nuts or berries if desired.
Pour into bread pans, each pan ½ full.
Bake at 350 degrees for 1 hour if regular size bread pans. Cook until toothpick comes out clean if making small loaves.
Recipe by
Living A Frugal Life
at https://www.livingafrugallife.com/healthy-banana-bread-recipe/