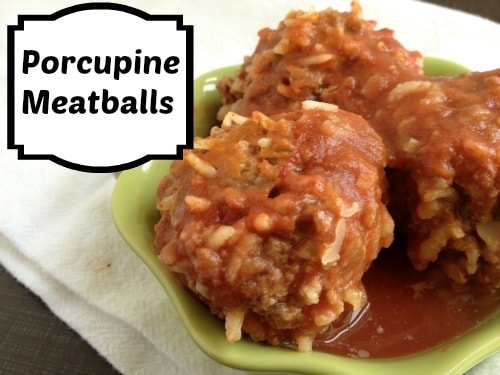 This is an old family recipe and something I LOVED as a kid.  This recipe is a great way to stretch you meat further while keeping everyone happy!
Porcupine Meatballs: Quick Easy Dinners
Porcupine Meatballs and Stuffed Peppers
Creator: Melissa @ Living a Frugal Life
Recipe type: Main
Ingredients
2lb ground beef
⅔ c uncooked Rice
½ c Water
¼ c Chopped Onion
¼ t Garlic Salt
pinch of pepper
Sauce
15oz Tomato Sauce
1c Water
2t Worcestershire
Directions
Mix Meat and spices together and either stuff a pepper cut in ½ or make it into meatballs
Place them in baking dish
Pour sauce over meat mixture
Bake in oven 350 degrees for 45 min
Another Cooking option:
Brown meatballs and put in slow cooker covered in sauce on low for 6 hours.
Enjoy!
Check out more Frugal Recipes
Sign up for free updates via email and get a FREE printable of "10 Thing You Could Do Today to Save Money on Your Household Budget"!