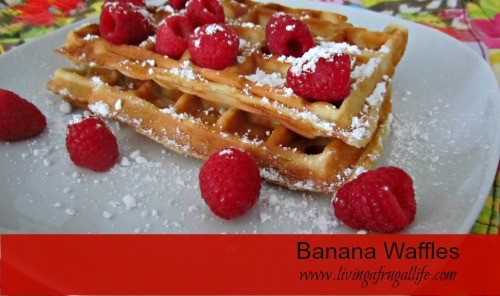 Banana Waffles Recipe
I love waffles!  I especially love it when they are super simple and a homemade healthy meal!.  I love these because they are really moist and they use up old bananas and I don't have to just keep making tons of banana bread.
Banana Waffles Recipe
Creator: Melissa @ Living a Frugal Life
Recipe type: Breakfast
Ingredients
2½ cups all-purpose flour
2 tablespoons sugar
1 tablespoon baking powder
½ teaspoon salt
1¾ cups milk
1 – 1½ banana's mashed
6 tablespoons oil
2 large eggs
Optional: ½ cup chocolate chips or chunks
Directions
Combine dry ingredients in a mixing bowl.
Add all wet ingredients and whisk together.
Stir in chocolate chips or chunks if using.
Let batter sit for 5-10 minutes. *this is an important step as they wont cook well if you don't let them sit.
Stir and cook on preheated waffle iron.
Enjoy!!!
What are your favorite toppings on waffles?
Be sure to check out the rest of our healthy meals.
Sign up for free updates via email and get a FREE printable of "10 Thing You Could Do Today to Save Money on Your Household Budget"!