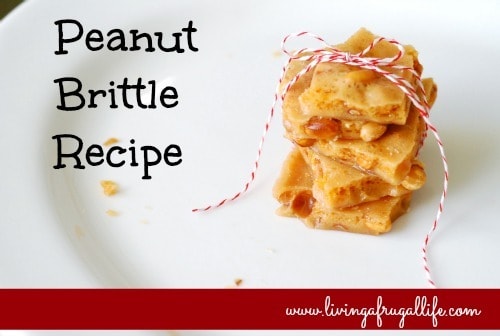 I grew up eating this at Christmas. My Mom would make a whole bunch of chocolate fudge, peanut brittle, and there was also usually some type of turtles and other various forms of sugar floating around. It was amazing.
So this is her recipe, except I added one thing.
Salt.
I didn't taste much of it, but I think it was a great, subtle little addition.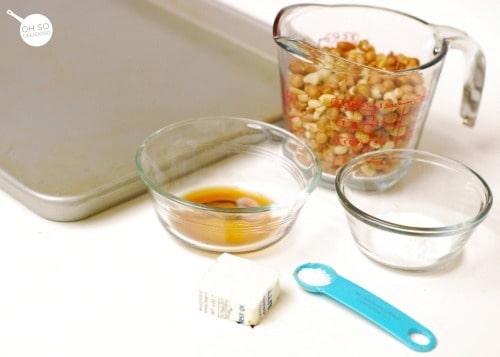 The main thing I want to stress is to have all of your ingredients ready to go. The first time I made this, I had my ingredients ready to go, but once the brittle reached the right temperature, I was focused on taking pictures while it was 300 degrees and as a result, burned my brittle. It tasted fine, but instead of a rich, buttery flavor I could still taste the slightly burnt taste.
See? Even we have kitchen disasters.
Nobody is immune!
So to prevent a terrible kitchen disaster, time is of the essence here. Things must be ready to be thrown in to the molten lava pot, mixed violently with your wooden spoon, and poured into your prepared jellyroll pan, like, mad fast. And don't try to take pictures.
This is what you'll need:

Ingredients
1 c corn syrup
2 c sugar
½ c water
2 c peanuts
1½ T butter
1½ t vanilla
2 t baking soda
½ t coarse salt (optional)
Directions
First, grease your jelly roll pan.
Then you can start with your sugar, corn syrup and water in a large, heavy pot, after you've sprayed the sides of the pot with cooking spray. (You don't want any flimsy pots here, it'll burn and ruin a flimsy pot. You'll be working with really high heat for an extended period of time, so seriously, use, or borrow, a nice pot.)
You also need a candy thermometer that attaches to the side of your pot and remains there the entire time.
Turn the heat on medium and stir occasionally (it should be boiling) until it reaches the thread stage, or 230' (this probably took about 5 minutes).
Next, you're going to add in your peanuts, and cook, stirring occasionally, until 301', or the hard crack stage. This took quite a while for me, about 20 minutes. It should be boiling the entire time
Brittle should be a nice, dark, amber color
Remove the pot from the heat, and this is where your boyscout mantra comes in handy (be prepared!).
Throw in the butter and vanilla, stir violently until just incorporated. But be careful because it will bubble up and steam.
Last, add in the baking soda and salt, mix it up again, until just incorporated (no longer)
Pour it immediately into your greased jelly roll pan. Slowly lift each side of the pan up at angles to get the brittle to spread out and cover the entire thing.
Let it sit for about 2 hours until the bottom of the pan is completely cool.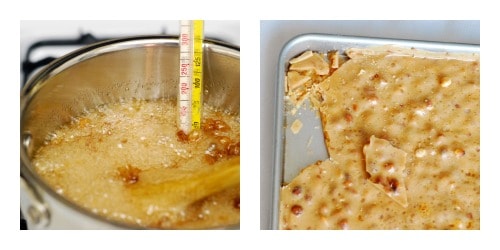 If you try to break it up before the 2 hours, it won't really work as it will be too soft.
Getting that first break might be somewhat difficult, but I've found that sticking a butter knife in between the sides of the brittle and pan works the best! Then you just go from there, it breaks into pieces pretty easily once you get that first piece. This is a good chore activity for little hands who are anxious to help in the kitchen.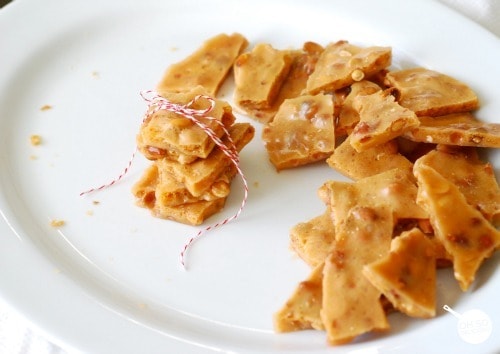 Check out more frugal recipes!
Stephanie is a contributing food bloggers over at Oh So Delicioso, where there are some pretty good recipes and they know how to use them. She is from the South and sometimes she talks like it, but mostly she likes to cook like it. Her favorite is a juicy burger or a perfectly grilled steak. Oh, and her cheeser 1 1/2-year-old son. He's another personal favorite. Food, family, and friends: what more do you need?