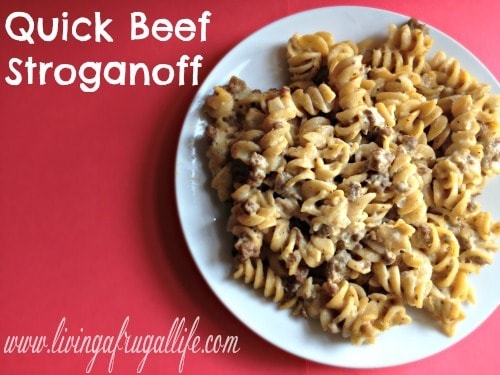 I am in love with this easy dinner idea.  We have never been big on mushrooms at our house.  So I always had a hard time with making beef stroganoff the way my mom always did.  It was good, but I didn't care for the mushrooms in it.  so I decided to make my own easy beef stroganoff recipe.
It took me only 2-3 tries of this recipe to get it right.  My favorite part is that it is mainly canned goods and you can make it as thick or thin as you like.  It is totally adjustable based on family size and taste preference.
if you're looking for another easy dinner idea, check out these options!
This easy dinner idea only uses 2 pans!  One skillet for the sauce and one pan for boiling the noodles or rice.  That makes clean up super easy!  I usually buy my soup cans with coupons when they are on sale or from amazon with some gift cards.  I almost always put mine over noodles.  I use whatever noodles I can get on sale.  But my favorite are egg noodles.

Quick Beef Stroganoff Recipe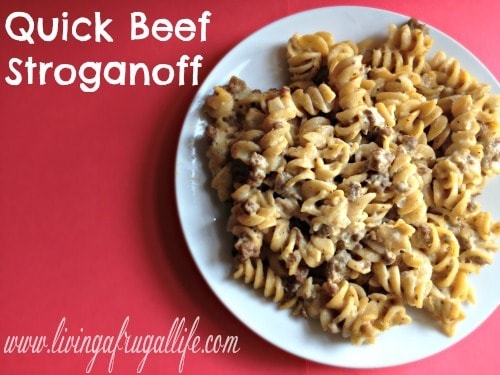 Creator:
Melissa @ Living a Frugal Life
Recipe type:
Main Dish, dinner
Ingredients
1 lb lean ground beef or ground turkey
1¼ teaspoons salt
¼ teaspoon black pepper
¼ teaspoon paprika
½ cup chopped onion
2 (10½ ounce) can cream of chicken soup
2 can Cream of Celery soup
2 cups of beef broth
1½ cups sour cream
Directions
In a large skillet, cook onion salt, pepper, paprika and meat until meat is browned.
Add cream of chicken and celery soup
Add Beef broth until as thin as you would like the sauce and let it cook 5 minutes.
Add sour cream and heat thoroughly.
Serve on noodles or rice.
This is a super easy dinner idea that is also a very frugal meal for your family especially if you get the soups on sale and the meat on sale!

Check out more easy dinner ideas!