My son has a love of all things Spider-Man these days and I have the new "Amazing Spider-Man" movie to thank for that!  We have never really explored or let him get any Spider-Man stuff because he is into so many things we have had to pick and choose what he gets to reinforce those loves.  As of lately, he has been talking a lot about Spider-Man because his friends at school have been talking about the movie coming out.  I was able to get an advanced copy of the movie with a special collectors mask for the videos.  So, with all the talk in the house about Spider-Man we decided to have a family night centered around Spider-Man so we could have a little fun with something he loves!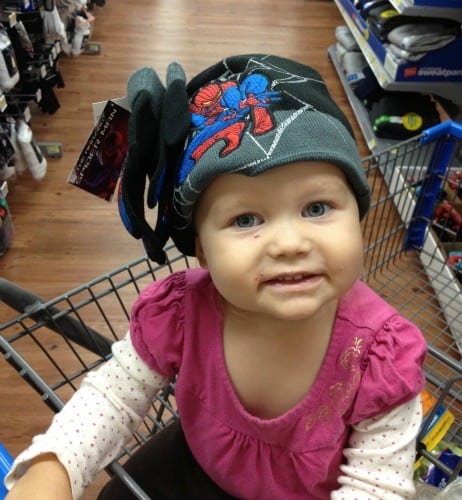 So I set out with my little helper (isn't she the cutest model ever??)while Braxton was off at school to get some Spider-man toys and goodies that we could have fun with.  I started by downloading the new Web Slinger app that you can get on itunes or Google Play.  This app lets you unlock a comic book that you can include your picture into so you are Spider-Man!  It's really cool and there is so much more you can unlock by using the app by hovering over and scanning specially marked Spider-Man products through the store.  Here is what my son's comic looks like.
Pretty cool hu?
While I was in the store, I gathered all the Spider-Man stuff I could including a couple action figures that were on sale for $5!!! That is an awesome deal for a spider-man lover, so get yours while they are on rollback!!!
In the deli section, I grabbed one of the Spider-Man Pizza boxes from Walmart that also works with the app.  The cool part is if you get one of these boxes and the movie cover, it unlocks a section of the app where you can fight the lizard.
Check out the rest of my shopping for the Spider-man family night fun!

After rushing home with all of our new Spider-Man gear, I headed home to prepare our fun filled family night as a surprise for the kids!
After getting the pizza in the oven we headed outside to have a web fight with some silly string!  The kids had a blast!  they loved getting daddy with the webs.  This was their first time playing with silly string and of course it didn't last 1/2 as long as they had hoped.
We came back in and I showed them the toys I got for them.  They were super excited for some new figures to play with.  Yes, Reagan plays with them all too.  She is a great little sister!  Do you see that BRaxton cn't even stop watching the TV long enough for me to take a picture!!! 😉
We ate the pizza while watching the movie and playing with the figures!  It was a super fun night with a great movie!
Right now if you preorder your copy of "the Amazing Spider-man" from from Walmart you will be able to get an advanced digital copy from Vudu.com. It is available on Blu-ray or DVD.
Be sure to follow The Amazing Spider-man on Facebook, or follow the Amazing Spider-man on Twitter!
What fun activities do you do on family night and how do you plan to have Spider-Man as a part of your family night?
I am a member of the Collective Bias™ Social Fabric® Community.  This shop has been compensated as part of a social shopper insights study for Collective Bias™ and Sony Pictures Home Entertainment #CBias #SocialFabric #SpiderManWMT ".  All opinions or experiences are my own.