How to Plan for Future Income + Free Printable
It's easy to see those bills come in the mail and get a little panicky. I had that same feeling the first time our loans started coming up for payment.  Our deferment period was up and I knew that when we started to have more bills come in our future income had to increase somehow. I continued to think about how I could help bring in a little income to bring some of our mountain sized debt down faster. Since we have little ones at home it's really hard to 'go out' and get a job. The money I was going to bring in had to be flexible. That's where this money planning sheet I've created comes in.
You can set a goal for the amount of money you need to make, paired with how to achieve that goal, how to get the goal accomplished, and a place to share your progress. This gives you one sheet to see what is working and helping you to achieve your goals and what is not working.  You can see what you need to spend more time on and what to stop doing.  Earning money on your own is a learning process just like starting a new job.  You will make mistakes and do things that will end up not making you much money.  But you will also have your future income that will work and does work and these are the things you should focus on.
The image of the Money Planning Worksheet is available below.  You can see how it could work for you and planning your future income.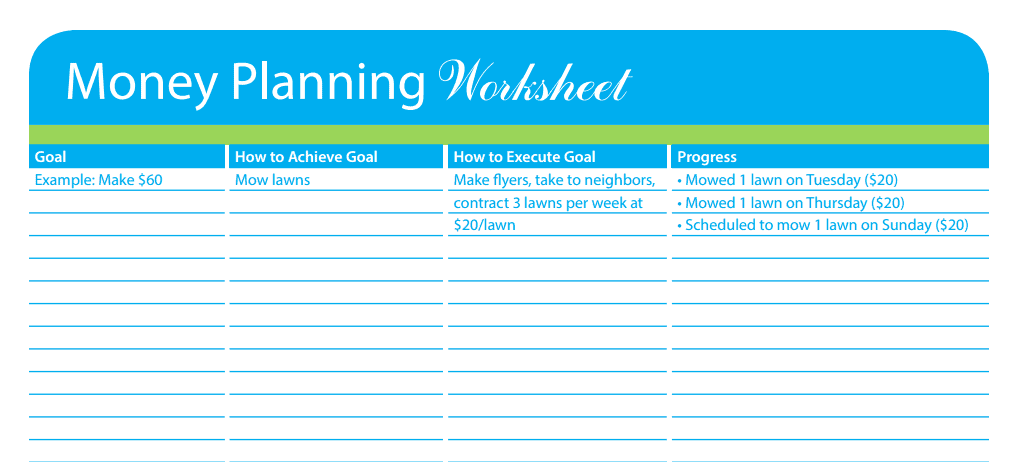 I hope you find this printable helpful. I know that once I could identify a goal, execute it, and see some progress my money making abilities got a little better. Don't forget to download the Money Planning Printable to use in your everyday frugal lifestyle.