Saving on Groceries by Knowing Your Price Points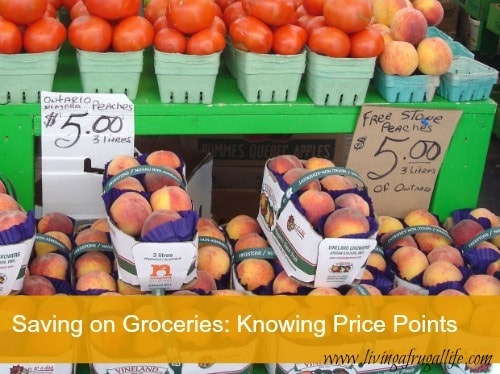 Knowing your price points is one of the most important tips for saving on groceries you can learn to do.  It is also one of the things that is the hardest to do.  Each person will have a different price point and right now with the economy each persons price point with probably fluctuate slightly over time. Price points also will vary by region as well. If the item is grown or raised closer to you, the price will be lower, while another item may have to be shipped in and that would cost that person more.
While it is easy to compare yourself to others and see that someone has a lower price point then you, try not to compare and worry.  What matters is that the price point works for you and your families budget.
When trying to figure out how to save money on groceries by knowing your price point the first thing you need to do is look at your store ads and see what is on the front page.  The items on the front page are called loss leaders because the store looses money on them trying to entice people to shop at their store.  These items will be at rock bottom prices for that store.  These are the items you will want to purchase and you can start your price point at the prices they have there.
As a tool to teach you to save money on groceries, make a book where you write down your price points so as you shop you can compare the price of the item with your price point.  I recommend using a small pocket spiral book for this so it is easy to bring with you.  As you find items at a better price you can adjust your price point to know how much you will spend on the items you buy.  Buy items only at your price points or close to those prices and stock pile them for the future.
To give you an idea of what my price points are I have started an spreadsheet.  Please remember that these are my personal price points that work for us right now and are ment just to give you an idea of what they might be for you..  Yours will vary from these and in no way should you feel like yours should be where mine are.
If you want to know more about saving on grocery, check out more articles on how to save money on food.