7 Money Saving Questions to Ask a Prospective Contractor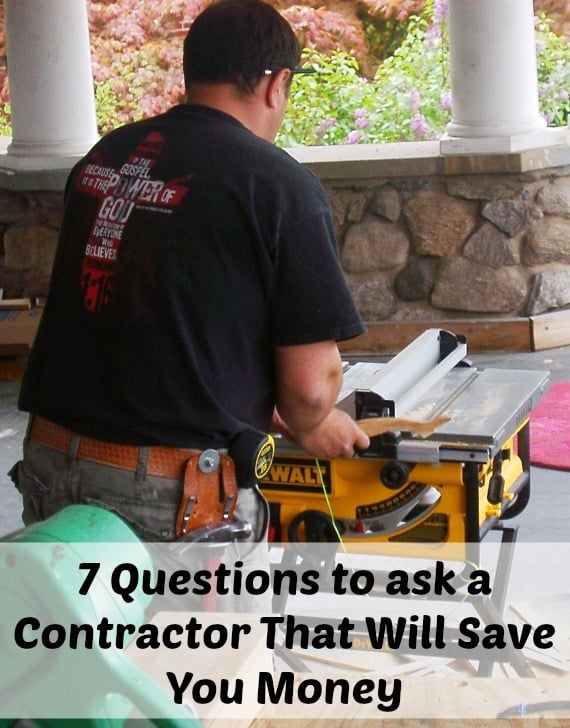 Some of us pride ourselves on being seasoned "do-it-yourself" experts and saving tons of money in our home, but sadly some people do not have that ability.  Other times there are projects that are just too big or complex for a homeowner and the only feasible solution is to hire a contractor for the job.  Hiring a contractor can be a scary prospect because a friend or family member always has a horror story of a contractor botching a job.   Nothing short of a crystal ball will guarantee that you have the right questions to ask a prospective contractor to help you pick a contractor that will be talented, trustworthy and customer oriented. 
In place of a crystal ball, here are seven questions to ask a prospective contractor before you hire them and certainly before you give them any money.   While some of these questions may seem obvious, you should never assume that a contractor is reputable without being given the opportunity to review the evidence. 
Questions to ask a prospective contractor
Are you licensed?  Often it will state this in the contractor's advertisement but dig a little deeper on this question.  Ask for the license number and look it up on your state's licensing board website.   Ask if the contractor is licensed to do the particular work that you need.  For example, a bathroom renovation will require general contracting, plumbing, fine finish work and potentially HVAC work.   You should make sure that your contractor or his employees are qualified for all of the trades that you need.
Are you insured?  You will want to ensure that the contractor carries general liability insurance which will protect you in a situation where your home is damaged due to their actions.  In addition to general liability insurance, a contractor must have an umbrella policy that covers your whole home in case of an accident.  For example, a contractor is working on the electrical wiring and a portion of your house catches fire.  The umbrella policy will cover the areas of the house damaged by the fire.
Do you guarantee your work and for how long?  You will want to understand these details to understand the available recourse if you are not happy with the work performed by the contractor.  Not only should you be concerned with the guarantee of the contractor but also any warranties on the materials that the contractor chooses to use, such as windows.
Can you provide references?   Any contractor worth their weight will provide references, but the trick is that they will always provide the good ones.  Call the references that the contractor provides keeping in mind that this should be the best example of their work.  Other passive ways to find references is through online sources, such as Angie's List or through word of mouth via neighbors or acquaintances.  Don't be afraid to ask around about a contractor.
How many jobs have you completed similar to mine?  Many contractors will bill themselves as being able to do anything but be sure to ask specifics details about the job that you would like them to complete.   You don't want them learning on your house!
Do you have a portfolio of your work available for review?  Ask the contractor for pictures of their work on other jobs.  Ideally pictures will be available of the type of working that you are looking to have done.
What is your payment schedule?  Avoid any contractor that wants half of the amount up front.  Ask for an agreement with a pay as you go schedule (with a reasonable amount up front for materials purchase).  You will want the agreement to include a balance at the end of approximately 10% so that you have the opportunity to hold back the final payment if you are not satisfied with the final product.
Remember that you should not be shy or worried to ask your contractor these questions.  Any good business owner will understand that you are protecting yourself and your investment.  If a contractor is reluctant to give you a straight answer to any of these questions to ask a prospective contractor, it is time to move on to another company.
Be sure to check out more ways to save money at home!