Vons Just for U Personalized Savings Program
Just for U is a Vons personalized savings program for it's shoppers!  It is free to use and brings you additional discounts to help in your savings!  This is the same program as the Safeway Just for you program if you are familiar with it as Vons is owned by the Safeway company.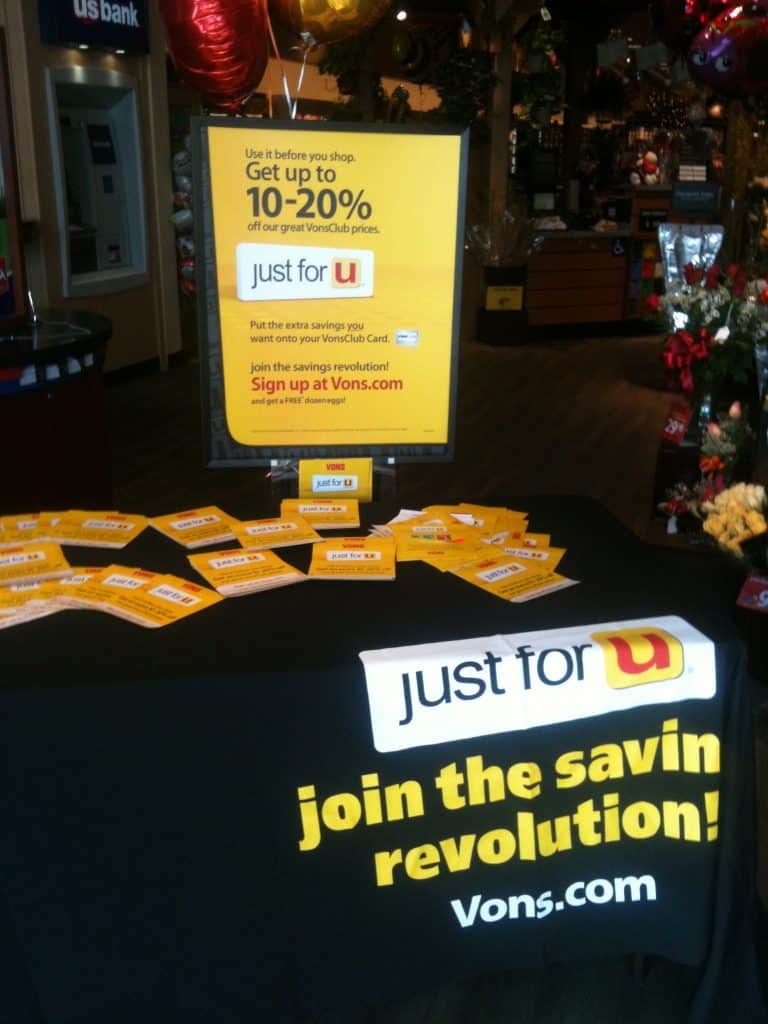 I can't tell you how excited I am to share with you this awesome new savings program at Vons.  I went shopping with the program and no additional coupons but one I found in the store for $1.00/4 Yogurts.  I saved 44%!!!! I can only imagine if I added coupons on top of that.  It would be an easy 50-75% saved each trip!
Here is how the program works and how you can get signed up so you save more!
How to use Vons just for U
Vons Just for U is a savings program based on your purchase history.  For a while now your Vons card has kept track of what you have bought and when you bought it.  This information was used by stores to see what people are buying so they can stock their stores with what you buy.  That information is going to be working for YOU now!  How exciting is that?  They have been working over the last couple months to compile all that info to give each person a personal shopping experience.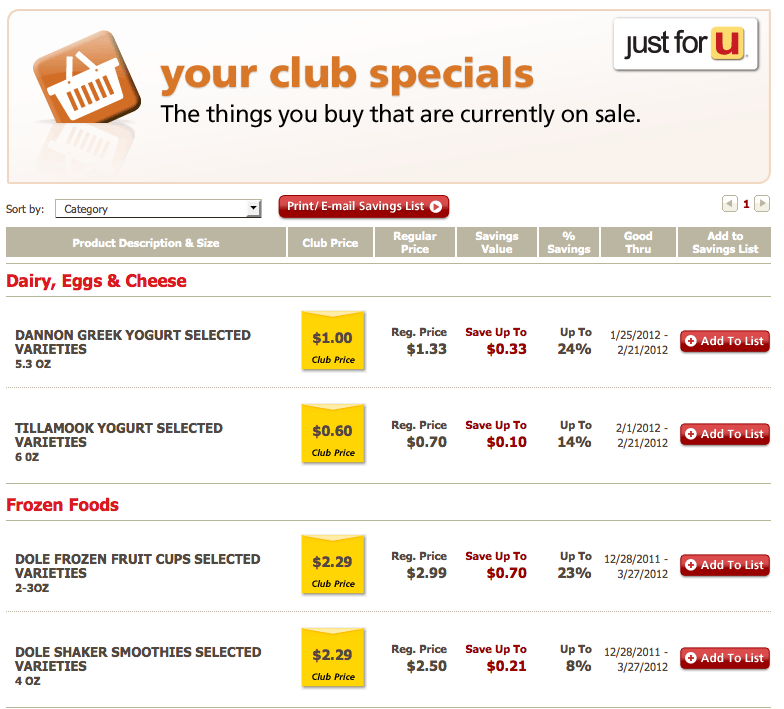 When you sign into your Vons Just For U account, you will have the option to click on coupon center, personalized savings, or club specials.  The club specials are basically the sale items in the ad that week but sorted by what you buy.
How to use the coupon center
The coupon center is a place to load e-coupons.  All of the in-ad coupons are in this place that you can load on your card.  I will talk a bit more about that and how it works below.  The personalized savings section is a personal shopping experience for each person.  It is personalized prices and deals based on what you shop for.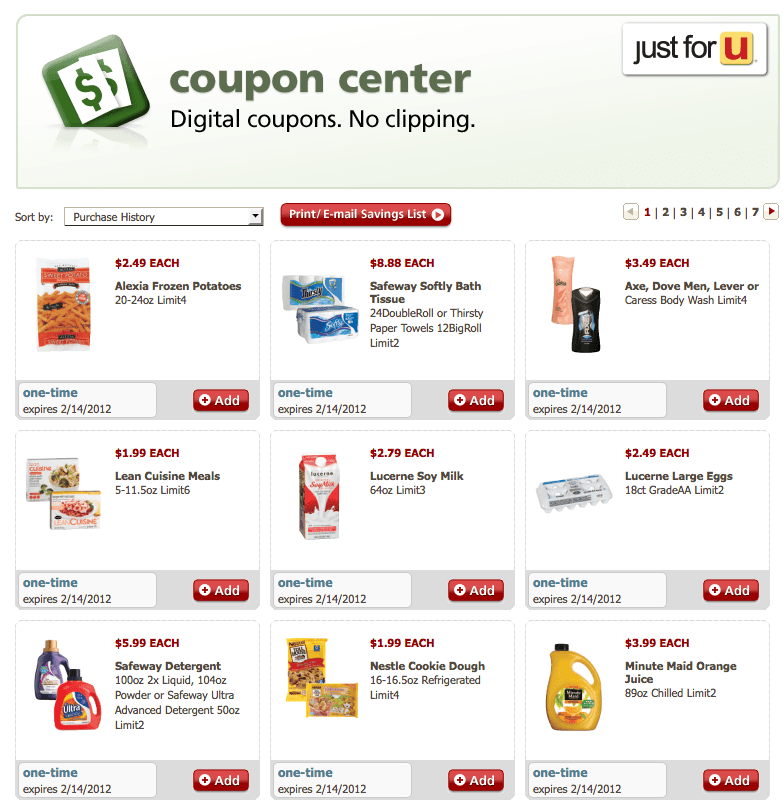 When you go into the Vons just for U coupon center you are going to see a big list of coupons.  There are a couple things you need to pay attention to.
One of the things that it doesn't show is if the coupon is a store coupon or a manufacturers coupon.  We asked Vons about it and they said they are working on putting something on it so you know which it is.  And remember that you can't use a manufacturers e-coupon and a print manufacturers coupon at the store.  It is one or the other.
Until they figure out how to fix it so you know, they taught me a little trick.  If you see a coupon that has a price on it, like Ocean Spray Cranberry Juice for $2.50, it is a store coupon.  If you see a coupon with $ off a product, it is a manufacturer coupon, like $.50 off Yoplait yogurt.
This way you know what stacks and what doesn't.  The e-coupons in this area DO stack with the personalized deals so there is a possibility of great savings without any additional coupons.  Just your personal deals and the store coupons.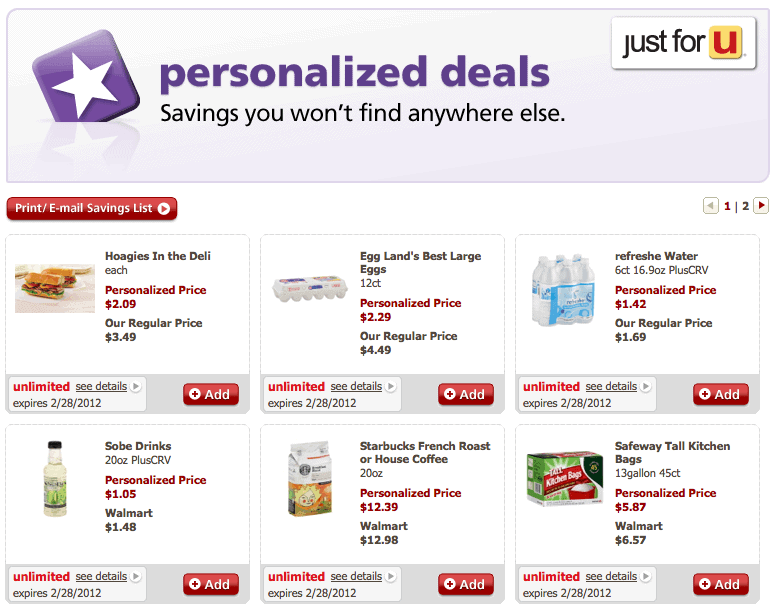 How to use the personalized savings
The Vons just for U personalized savings center is where you want to focus most of your time as this is what will help to bring your grocery budget down.  It is this area where the additional savings are and the special prices just for U!
It is in this section that you will find an extra special coupon for FREE EGGS just for signing up!  It is also the place you will see your discounts.
What I did when I first got on was load everything that I might buy on my card.  This way I don't have to think about it later.
Some of the discounts are just a few cents and some are big discounts like $1 off.  But every cent counts so I will take it!  It is also in this section that you will find comparison pricing!
This helps you to know that you are getting the best deal on the products included in there.  Personalized deals do NOT stack with club card savings, it will give you whichever deal is better.
As you load these on your card be sure you look to see if you have the Vons just for U discount unlimited times or if there is a limit.  I have a deal in mine for $.49/lb bananas (reg. $.69/lb).  This discount is good for the whole month of Feb. so I can use it as many times as I want for that month!  Talk about savings that just keeps going!!!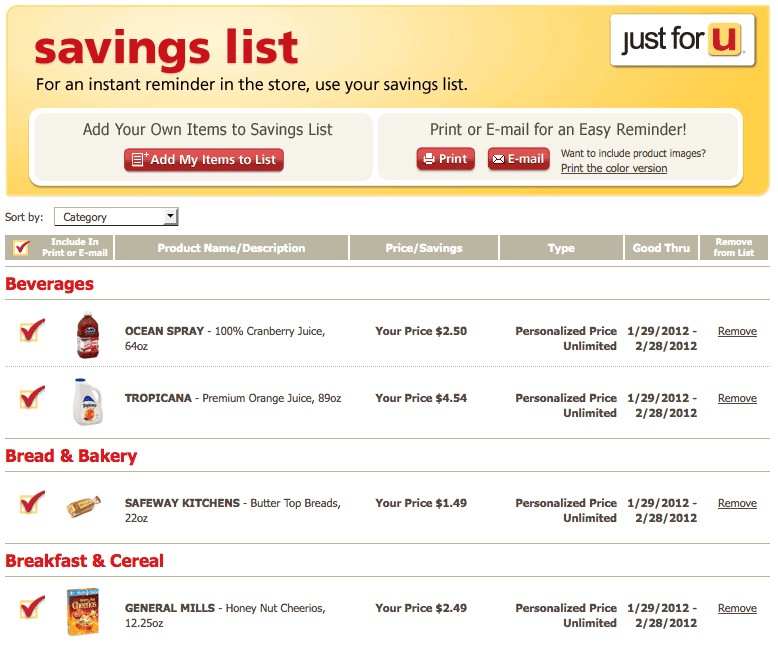 How to use the savings list
If you want a list of items on your card, go to your savings list and print it off.  This can also double as a shopping list for you as well.
I think one of the best things about this program is how it will help those who like to shop organic or natural.  This is a hard area for many who shop this way to find discounts.  Because it tracks your products you buy, it will give you special discounts on organic and natural products you buy thus saving you more money.
So I know what your thinking.  How do I sign up for the Vons just for U program?  it is SUPER easy!  All you have to do is go to the Vons website and click on Just for U.  Y
You need to know an email address for your login and your card number or the phone number connected with your account.  Fill out the rest of the fields and accept the terms.  Then you are ready to go!  Click into the personalized savings and get saving!!!!
There is also a Vons Just for you app available for iPhone and Android.  This is a great way to easily add your savings.  Most stores have free Wifi in their stores as well so you can even add them while you waiting in line to make your purchase!
Check out more info on how to shop at Vons with coupons!