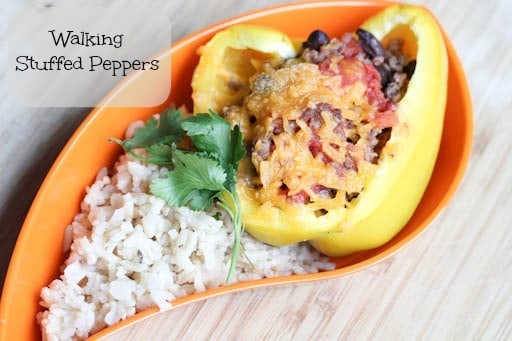 So I have a beef with stuffed peppers. They are too tall. And hard to eat. Do you just bite into it and risk everything falling out? Do you use a fork? Do you cut it up and eat it by bites?
Introducing…
Walking Stuffed Peppers. Peppers, that are cut and laid on their sides, filled and cooked. The pepper softens as it bakes, so you can then eat them like a taco. One bite at a time, without a huge mess. Love it!
Walk and eat. Walk and eat. Walking Mexican Stuffed Peppers, just like Walking Tacos!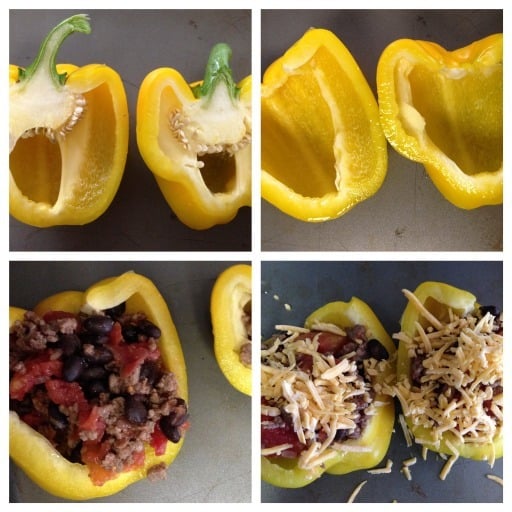 Walking Mexican Stuffed Peppers Recipe
Walking Mexican Stuffed Peppers Recipe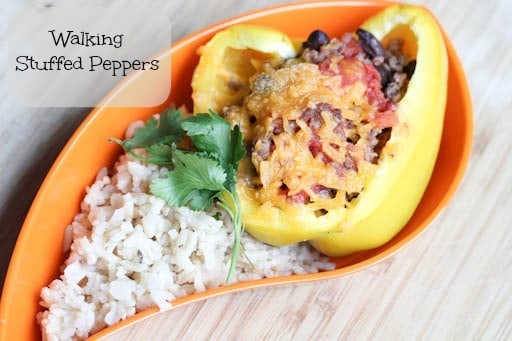 Creator:
Melissa @ Living a Frugal Life
Ingredients
½ lb. ground beef
1 small onion, chopped
1 Tbsp homemade taco seasoning
4 yellow peppers
1 15 oz. can black beans
1 15 oz. can corn kernels
1 15 oz. can diced tomatoes, drained
Handful chopped cilantro
Salt and pepper
About 1 cup shredded pepper jack or cheddar cheese
Side dish suggestions - brown rice and/or chips with salsa
Directions
Preheat oven to 350.
Brown the ground beef with the onion and taco seasoning.
Cut the peppers vertically and scoop out the insides and seeds.
In a mixing bowl, combine the beans, corn, tomatoes, cilantro and seasoning. Fill up the pepper "shells" and top with a pinch full of cheese on each pepper.
Bake in the preheated oven for 15 to 20 minutes, or until cheese has melted and peppers have softened.
Serve Walking Stuffed Peppers with side of rice and chips & salsa.
Looking for more
stuffed green bell peppers
recipes?  Check out the others we have
here
!

Erin Chase is the founder of $5 Dinners.com and author of The $5 Dinner Mom Cookbook series. When not in the kitchen whipping up fabulous and inexpensive meals, she's working hard to keep her 4 rambunctious little boys out of trouble, and out of the emergency room! She lives with her family in San Antonio, TX.