When I first started cooking stuffed peppers, I wanted to explore all the different types of recipes and grains to go in them.  One of the first ones I tried was stuffed peppers with couscous.
I decided on couscous because my husband likes it and it is easy for me to work with.  To get the right mixture I had to add a lot of tomato sauce to the recipe making it tomato stuffed peppers with couscous.  I think it turned out really well so I have continued to perfect it.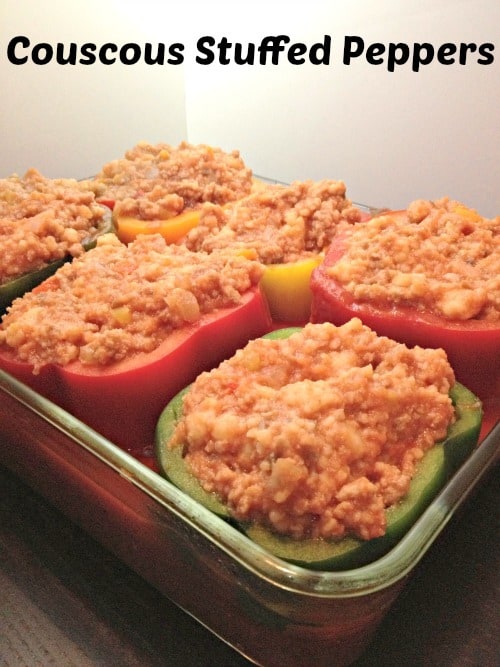 This recipe is a great one is you love soft fillings in your stuffed peppers recipes if not you should try a heartier filling like our Beef Stuffed Bell Peppers Recipe
Stuffed Peppers With Couscous
Couscous Stuffed Peppers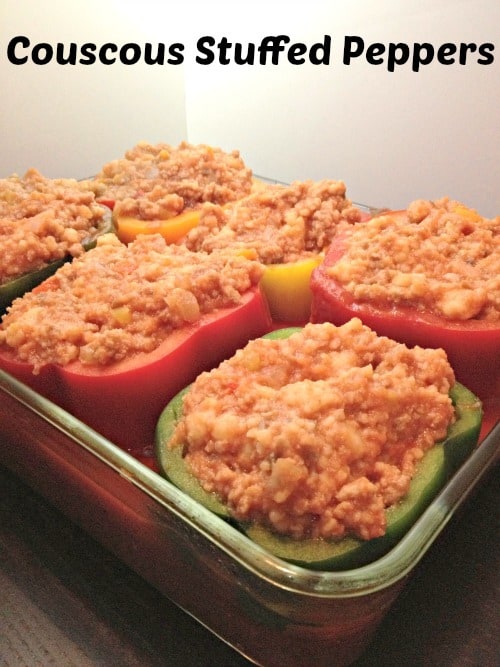 Creator:
Melissa @ Living a Frugal Life
Ingredients
6 bell peppers – any color. I like this best with green peppers.
1½ pounds lean ground turkey meat
4 (15 ounce) cans of tomato sauce
½ large onion chopped
½ pound mushrooms finely chopped
1 teaspoon onion powder
1 teaspoon garlic powder
1 tablespoon olive oil
1½ cups cooked couscous
½ cups chicken broth
Directions
Preheat oven to 350 degrees F.
Slice the tops off your peppers and remove the cores. Reserve the tops.
Place your peppers in a baking dish that fits the peppers snuggly.
Pour 2 of the 3 cans of tomato sauce into the bottom of the pot so your peppers have a nice little pool to swim in during baking.
Pop out the middles of your pepper tops and chop them
Put your veggies in a pan with the olive oil and sauté until they are nice and soft.
Put your cooked veggies into a large mixing bowl and set aside.
Using the same pan you cooked your veggies in, cook your turkey in the ½ cup of broth.
Add your spices.
In the last 3-5 minutes of cooking, return your veggies to the pan. Mix well.
Turn off heat under pan and add couscous and your remaining tomato sauce to pan. Stir well.
Fill your peppers with the meat mixture.
Cover tightly with aluminum foil.
Bake for approximately one hour, or until the peppers are very soft.
Cool and serve with a little sauce poured over the top.
If you are looking for more
stuffed green bell peppers
recipes you can find them
here
.