The Best Ground Beef Stuffed Bell Peppers Recipe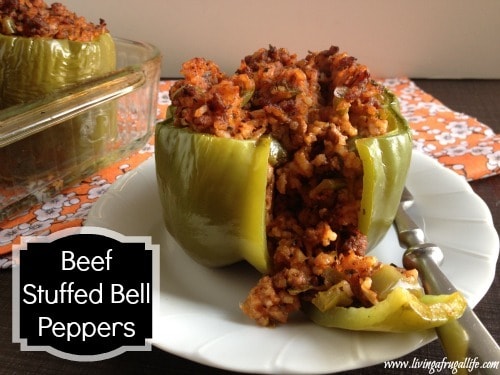 I LOVE ground beef stuffed bell peppers.  I didn't know I loved them until a couple years ago when I decided I needed to try some new things, and my mom had a recipe for them.  I love how you don't just have to have stuffed bell peppers with ground beef and rice, though.  There are many varieties of stuffed green bell peppers you can try.
You may want to check out this stuffed pepper casserole!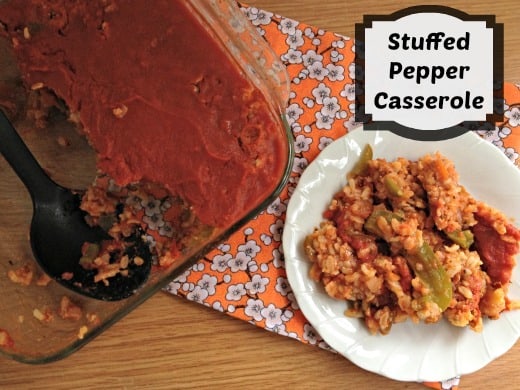 You may also want to check out this beef stroganoff recipe!  Super fast and your family will love it!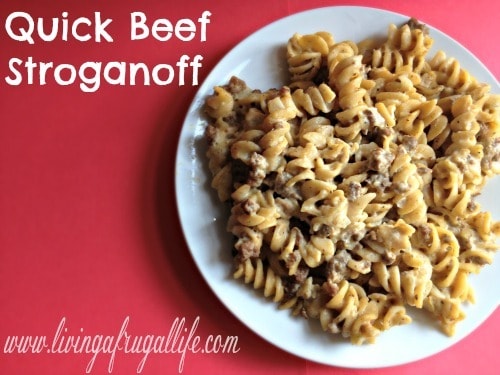 Like the beef stroganoff, this beef stuffed bell peppers recipe is another very simple recipe and takes less than an hour to make so it is a great one to have in your weeknight meals. I also love that it is made with simple ingredients like tomato sauce you can get on sale!  And best of all, it cooks with water in my pyrex dish.  No fancy sauce to make.  Just whole ingredients in the pepper!
Beef Stuffed Bell Pepper Recipe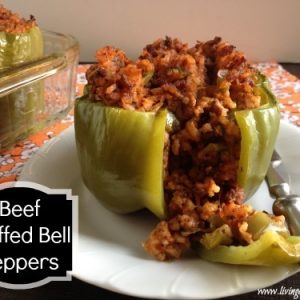 Beef Stuffed Bell Peppers Recipe
Instructions 
Preheat oven to 350

Cut off tops of peppers and chop the edible parts of the tops.

Heat water in a large pot and parboil the peppers for 2 to 3 mins or until tender. Take out peppers and let sit on paper towels to dry

in a skillet, heat olive oil and add onion and pepper tops to the pan and cook until soft

Add beef, garlic, parsley, salt, pepper, and pepper flakes. Cook until meat is browned and crumbled

Add rice and tomato sauce and stir well.

Arrange peppers in baking dish and add water until about and 1/3 inch thick.

Stuff peppers with rice and meat mixture until filling forms a slight dome above the edge of the pepper.

Bake 25 to 30 mins or until peppers are tender

remove from the oven and let rest for 10-15 mins before serving
What do you like in your stuffed bell peppers with ground beef?