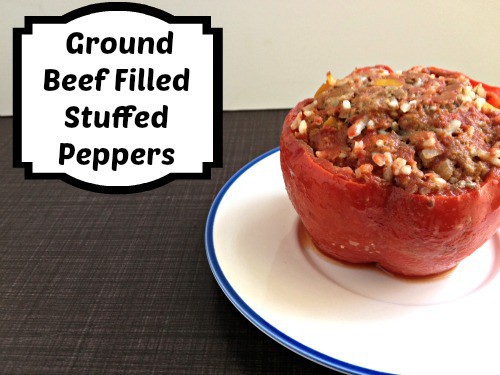 Stuffed Peppers are a great addition to any meal.  This meat stuffed peppers recipe is no exception.  This is a quick and easy recipe and is a great one for even kids.  They love the sauce and filling.  This can be made in any color pepper so pick your favorite and dig in!
When making this recipe be sure you cook the meat all the way through and if you use fresh onions, cook them with the meat as well for added flavor.
Stuffed Peppers: Ground Beef Filled
Stuffed Peppers:Ground Beef Filled
Creator:
Melissa @ Living a Frugal Life
Ingredients
3 Bell peppers
1lb ground beef
½ c uncooked Rice
½ c Water
⅛ c Chopped Onion or dried onion
¼ t Garlic Salt
pinch of pepper
Sauce
15oz Tomato Sauce
1c Water
2t Worcestershire
Directions
Mix meat and spices together in a skillet until meat is cooked through
Add rice and water and boil until water is gone
While water is boiling, cut each pepper cut in ½ and place them in baking dish
Spoon in meat and rice mixture
Mix tomato sauce, water and worcestershire and pour sauce over meat mixture and peppers
Bake in oven 350 degrees for 25 min
Enjoy!
You may also like this recipe for