Stuffed peppers can be made in many styles.  I love the italian stuffed peppers recipe!  It is a very easy and quick one that tastes like a low carb version of spaghetti!  If you are looking for a gluten free meal that is fast and really tasty this one is a great option!  I also love all the hidden veggies in this recipe for stuffed pepper.  It is a great way to get your kids to eat their veggies.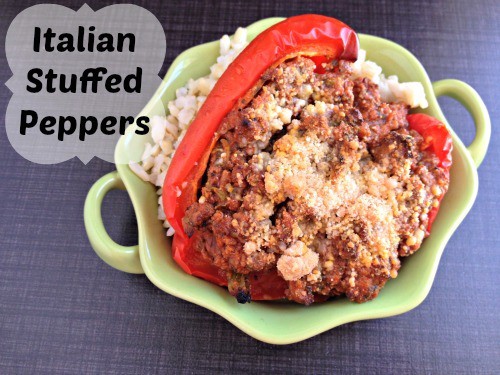 This can be made in may ways.  If you prefer more pepper on the outside you could make it standing up like the stuffed peppers ground beef filled version
Italian Stuffed Peppers
Italian Stuffed Peppers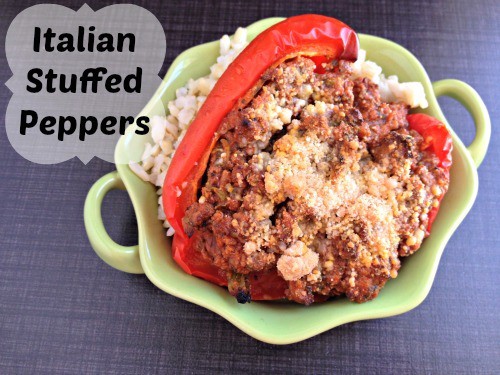 Creator:
Melissa @ Living a Frugal Life
Recipe type:
Dinner, ground beef, turkey
Ingredients
1lb Ground beef or turkey
2½ cups Spaghetti sauce
1 tsp Italian seasoning
2 tsp Garlic powder
½ tsp salt
½ tsp pepper
½ cup Frozen spinach or fresh spinach chopped
6 Tbs Parmesan cheese for garnish
3 Red bell peppers
Directions
Preheat oven to 450 degrees. Line baking sheet with foil. wash red peppers and slice in ½, removing stem, seeds and ribs.
Set peppers in baking pan.
Cook ground beef or turkey in a large non-stick skillet over medium-high heat. break up while cooking. When turkey is almost completely done, add the sauce and seasoning and stir until mixed thoroughly.
When meat is completely cooked add spinach to meat and stir until combined.
Scoop meat mixture into peppers
Sprinkle with parmesan cheese and bake for 20-30 mins.
Remove from oven and let cool slightly before serving.
Check out more
meat stuffed peppers
recipes for your family
here
!