Cheap Healthy Meal: Italian Beef and Vegetable Soup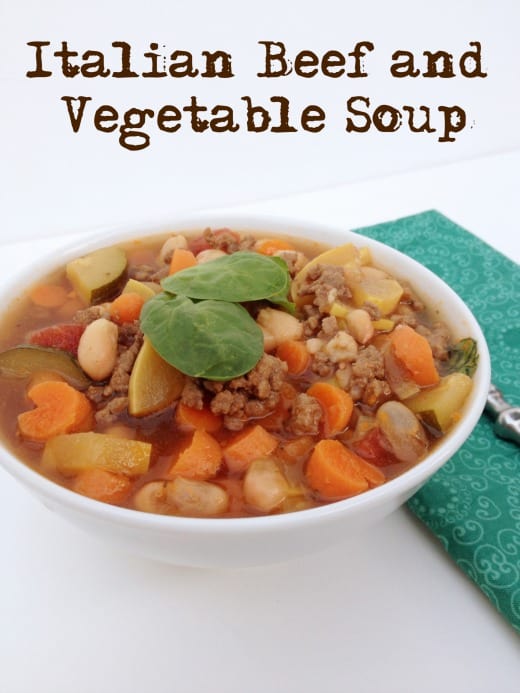 The first time I had this cheap healthy meal was with my dad.  As he started his chemo treatments, this was the only soup he could always keep down and always tasted good.  So when I returned home from my 18 month mission for my church we would often sit at the table and enjoy each others company over a bowl of this.
We talked about life and how his cancer was progressing.  We talked about my life and where I thought it would take me.
Now as I make it for our family it is quickly becoming a soup we enjoy learning about each other over.  This is one of my families favorite healthy meals and one of the best soups I have tasted.  It is made with lots of fresh ingredients and it is super fast to make! Prep and cook time is 30 min!!!!  You can't beat a soup like that!
We love to eat it with whole wheat bread that we sometimes toast and dip in the soup!
You can make it with the beef or without it.  As my dad cancer got more extensive he loved it without the beef.  I loved it both ways because it is good and filling either way.
Make a memory with your family over this soup tonight!
Italian Beef and Vegetable Soup Recipe
Ingredients
1 lb Lean Ground Beef
3 Cloves of Garlic Chopped or Crushed
1/2 tsp. Pepper
1/4 tsp. Salt
3 Cans Ready to serve Beef Broth 14.5 oz cans or more or 4 cups of water and 4 bouillon cubes
1 can Itallian-Style stewed Tomatoes undrained and broken up
1.5 Cups Sliced Carrots
1 can cannalli white Kidney Beans, Red Kidney Beans, or Great White Northern Beans, Rinsed and Drained
1-2 Medium Zucchini sliced and cut in 1/4ths
2 Cups torn Spinach
Instructions
Brown ground beef and garlic in a stock pot breaking up into crumbles until cooked, 4-5 min. Then drain meat or all grease and season with pepper and salt.
Stir in broth, tomatoes, and carrots into beef. Bring to a boil and lower heat. Simmer for 10 min.
Stir in beans and zucchini. Continue to cook 4-5 min. or until zucchini is tender.
Remove from heat and stir in spinach
Italian Beef and Vegetable Soup Printable Recipe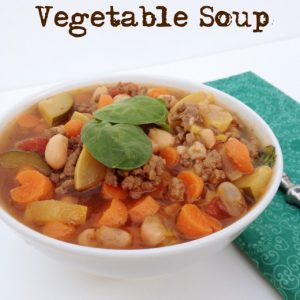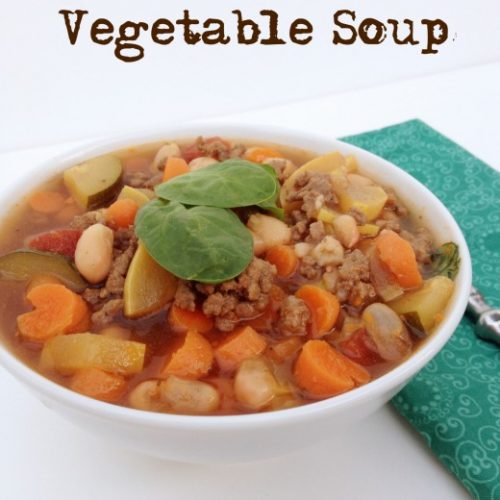 Healthy Italian Beef and Vegtable Soup Recipe
Ingredients  
1

lb

Lean Ground Beef

3

Cloves

Garlic

Chopped or Crushed

1/2

tsp.

Pepper

1/4

tsp.

Salt

3

cans

Ready to serve Beef Broth

14.5 oz cans or more or 4 cups of water and 4 bouillon cubes

1

can

Itallian-Style stewed Tomatoes

undrained and broken up

1.5

cups

Carrots

Sliced

1

can

Cannellini Beans

Rinsed and Drained (white Kidney Beans or Great White Northern Beans can replace if needed)

1-2

medium

Zucchini

sliced and cut in 1/4ths

2

Cups

Spinach

torn
Instructions 
Brown ground beef and garlic in a stock pot breaking up into crumbles until cooked, 4-5 min.  Then drain meat or all grease and season with pepper and salt.

Stir in broth, tomatoes, and carrots into beef.  Bring to a boil and lower heat.  Simmer for 10 min.

Stir in beans and zucchini.  Continue to cook 4-5 min. or until zucchini is tender.

Remove from heat and stir in spinach
Check out more Healthy Meals for your family