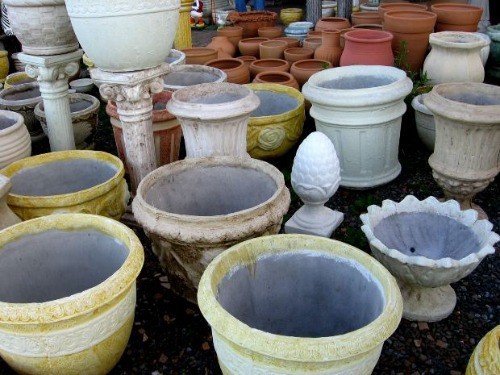 There are many types of containers for container gardens, but really any container can be used for a container to plant in.  Some have to be washed out a lot before you use them but as long as they have some simple things such as drainage and a spot to hold enough soil for your plant, It can be used.

Types of Containers For Container Gardens
Here are a few containers for gardening that can be used:
Clay or terra cotta is porous and dries out more quickly than other materials. The porosity also helps prevent the soil from getting too saturated. If you choose this type of pot, be sure you remember that plants in clay pots may need watering more frequently due to the pots drying out. Clay pots can be waterproofed if you wish.
Wood containers include window boxes, barrels, buckets or baskets. Moisture tends to be a problem with some of these. It helps if you seal the wood or put another containers inside of the wooden one.  I use plastic in my boxes so you could use something like that as long as it has holes.
Plastic containers range from the nursery pots that you purchase plants in to highly decorative versions. Make sure these have enough holes on the bottom for proper drainage so the plants roots don't get too wet.
Concrete planters offer a formal statement to the garden. These can be made with poured concrete or concrete blocks.  This is something you could do for close to free if you are short of cash by asking for blocks at building sites and places like that.
Ceramic and metal are primarily used for indoor houseplants. Both offer many decorative options.  Again check the drainage.  A lot of these types of containers tend to be more for decorative purposes and don't allow for propor drainage of plants.  If this happens you may have to put another container inside it.
Hanging baskets can be made from many of the materials above, including wire. Hanging baskets tend to dry our very quickly, so keep an eye on them. Make sure they are in a place where it can drain onto the ground and dry out or water it more frequently.  Make sure they are hanging from a secure hook.
What do you like to use for your container garden?