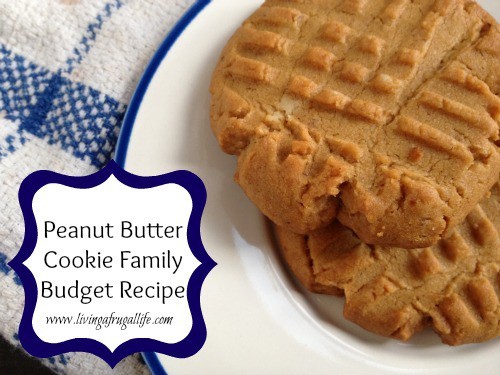 This is a recipe my mom has been  making since I was a kid.  They are so yummy and you can make them without butter!!!  Seeing as I am dairy free at the moment, these are one of my favorites to make.
Peanut Butter Cookie Family Budget Recipe
Peanut Butter Cookie Family Recipe
Creator:
Melissa @ Living a Frugal Life
Ingredients
1 Cup Peanut Butter
1 Cup Margarine or oil
1 Cup White Sugar
1 Cup Brown Sugar
2 Eggs Beaten
3 Cups Flour
2 tsp Baking Soda
¼ tsp Salt
1 tsp Vanilla
Directions
Mix all wet ingredients together in bowl
Add dry ingredients and Mix together
Shape in balls on a cookie Sheet and press down with a fork
Bake for 9 min at 325 degrees
Check out the rest of our Frugal Family Recipes!