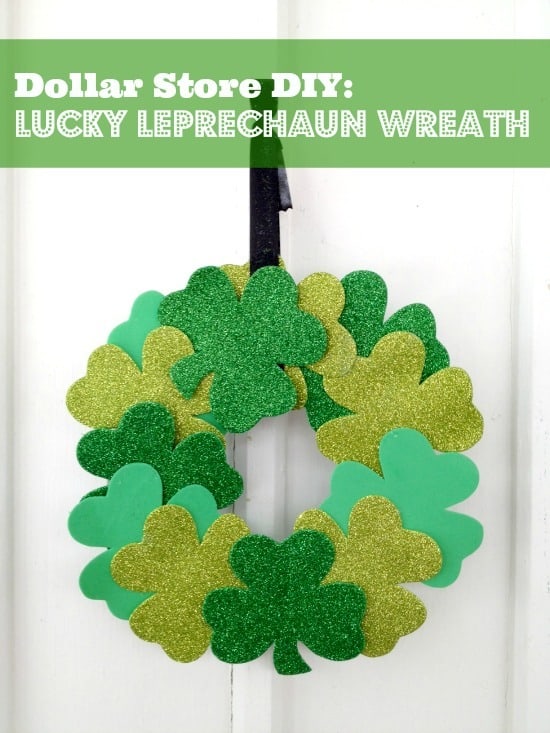 This post is sponsored by The Dollar Tree
The St. Patrick's Day holiday is quickly approaching, and so you may be itching to dig out your green décor! This year, don't spend big bucks buying St. Patrick's Day décor at retail prices, instead, try crafting your own. With a quick trip to your dollar store, you can create a Lucky Leprechaun Wreath such as this. In fact, we were able to craft this example for around $3. Take a look below and see how simple it is to whip up this wreath for your own home.  Who knows, it might just bring you some good luck, or at least save you some serious cash!
Supplies needed:
Assorted foam clovers
Foam wreath form
Ribbon
Hot glue, glue gun
We were able to find all of our supplies at our local dollar store. Peruse the craft supply and holiday themed aisles and you should be able to find everything you need.
Directions:
1. Begin by deciding what pattern you want your clovers to make. If using an assortment of colors and finishes like we did, you may want to organize them into a specific pattern. Practice laying this pattern out in a circular form so you can get an idea of how you want to glue the pieces on.
2. You can now begin gluing your clovers on. Start at 1 o'clock on your wreath form, pressing a clover to the foam and holding it in place for several seconds. Repeat this step moving in a clockwise direction until you have made your way all around the wreath form.
3. If you wish, you can go back and glue clovers over any areas that seem a little bare or thin. You can also add an additional layer of clovers if you wish for more interest and dimension.
4. Cut a length of ribbon for hanging. Simply run your ribbon through the wreath and tie it to hang. For our wreath, we glued an additional clover on top of the ribbon to conceal it.
Now all you need to do is decide where you would like to display this piece! A front door, entryway, even your office door will look great adorned with this lucky leprechaun wreath. St. Patrick's Day will be here soon, so head to your dollar store and get crafting.
Be sure to check out all our other Dollar Tree DIY crafts!