How to Save Money on Private School Uniforms
There seem to be a lot of articles circulating out there about how to save money on back to school clothing, but what if your child wears private school uniforms? You might think that you need to just bite the bullet and pay for them at top dollar, but the truth is there are ways to get the private school uniforms you need for less. Take a look below at some helpful tips on how to save money on back to school uniforms.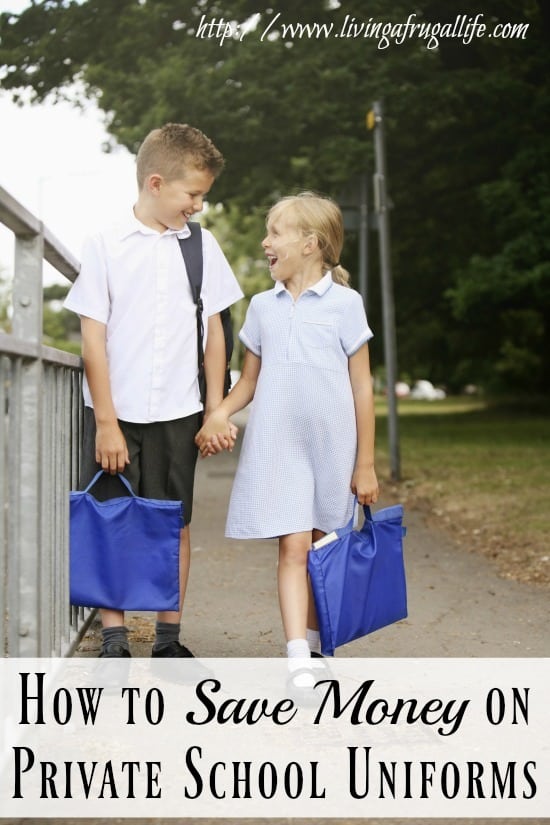 How to save money on private school uniforms
1. Check out Old Navy, Walmart
Many retailers are recognizing that schools, even public ones, are switching to uniform policies. Check out stores such as Old Navy and Walmart for a huge assortment of solid colored polo shirts as well as khaki and navy pants, skirts, and jumpers. You will find they offer competitive prices!
2. Buy in bulk
Some retailers are offering uniform style clothing in bulk in order to save you money. For example Walmart sells a 5 pack of solid colored polos as well as 2 packs of jumpers and uniform pants. This is a great way to build up your supply while getting a discount for buying multiple pieces.
3. Comb through thrift stores
You would be amazed at how many people donate uniform items to local thrift stores. Check your local thrift store out to see if you can find gently used polo shirts, khakis, jumpers, pants, and skirts. If you see some nice pieces that are a size too big, grab it anyways. You can most likely use it by mid year.
4. Look for uniform swaps
Many schools offer uniform swaps in order for parents to trade old clothing for new to them clothing. Ask the school your child will be attending if they are hosting such a swap and when the dates for the swap are. In the meantime, gather your gently worn pieces to trade for some new to you pieces.
5. Make friends with other parents
Talk to other parents who attend the school to see if they have any items they want to hand down, trade you, or sell to you. They will be happy for you to take their gently used items off their hands and you will be thrilled to get it for free or at a discount.
6. Check out online sale groups
The internet, especially Facebook, is full of online garage sale groups. See if there are any groups for your city or town that you can join, then place an ISO ad. You might just find someone willing to sell you the items you need.
7. Always use coupons if you can
Before you purchase anything, especially if shopping online, go to retailmenot.com to search for a coupon code. By taking a few seconds to do this you can save anywhere from 10-20% off your purchase.
Give these tips a try when shopping for uniforms this back to school season. They are great for saving a few bucks while still getting the items you need!