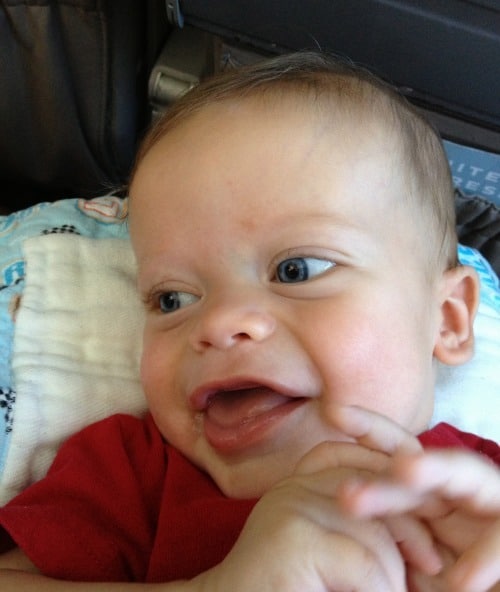 So I don't know if I have really shared all that has been going on with Quinn.  I am hesitant to share too much and give you TMI, but here goes! *Wink, Wink*
Quinn has been having issues with eating.  Really these issues started when he was born.  After he was born I tried to nurse him and it was like he had no idea how to eat.  He wouldn't suck.  Because of his birth, the nurses said to just keep trying but not to worry to much as he was probably tired fromt he birth.  So after 12 hours went by and he had still not eaten, I was told to pump.  I pumped all the rest of the day and all night and seriously I gained a lot of respect for those mom's who do it for a long time.  That was one the hardest things mentally I have ever done.
After pumping for that long I was told he still wasn't eating.  It had been 28 hours at that point.  They decided to tube feed him.  When they did this he threw up all of what they gave him.
During those 28 hours he was gagging and choking on stuff.  They thought it was just excess amniotic fluid so they gave me a suction to get it out when he choked.  About 1/2 way through the day after he was born he began to choke and cough and then choked so much he started to turn blue.  I called the nurse and they came down and suctioned him out.  They then decided that they needed to suction out his stomach to get the gunk out.  They did this and nothing came out.  and he continued not to eat.
Miraculously at 29 hours after he was born one of the nurses got him to take a bottle.  he spit up about 1/2 of what he ate, but he kept some down!!!!!  We then continued to feed him a bottle each time giving him the option to nurse first then if he didn't we would give him a bottle.  After feeding him 3 or 4 times with the bottle the lactation consultant and I talked about it and decided to try to get him to eat using a tube and my finger.  Teaching him to suck on skin with the hopes that he will nurse and not have to be bottle fed.
This type of feeding is interesting.  You take a syringe and you hook a tube to the bottom of it.  you put the pumped milk in to the syringe and you tape the end of the tube to your finger.   you then put your finger in their mouth and every time they suck you push the syringe down and reward them for their effort with giving them some milk.  He responded very well to that kind of feeding.
After 2 or 3 feeds with that type of feeding we moved the the tube to be there as he was latching on and nursing.  At first he struggled but as soon as he tasted the milk he would suck and he got better every time.
All of this happened over the course of 2 days.  We spent an extra day in the hospital and we were able to get him nursing exclusivly.  That work was all worth it, but it didn't mean that it was easy.
Over the next month we struggled off and on with his eating and his latch.  There were times he still would not eat.  I had to give bottles every couple days to get him to keep eating.  He continued to grow and got stronger and eventually he ate well and consistently.
We went to his 2 month appointment and he had gained a couple pounds and seemed to be out of the danger zone.  He weighed 11 pounds! that was great so we waited until his 4 month appointment.  At that appointment he still weighed….. 11 lbs.  that made him 1% for weight.  The dr started asking me tons of questions.  Were my other kids like this?  has he been crying a lot lately?  did he sleep ok?  all of which I answered no, no, yes.  Because of his issues before he told me he wanted to run some tests and see if his blood sugar and other things are ok.
They did a blood test and a urine test both of which came back normal.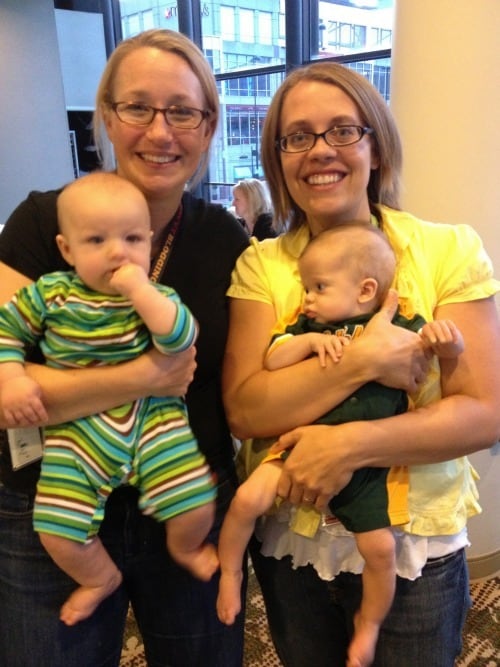 So here we are.  My son is "normal" but under weight.  He is SO skinny!  I have always had thin kids, but this guy is a stick.  See him next to Erin Chase's baby who is 1 month older then him?  Stick legs!  Don't you  just want to pinch Cuatro's (Erin's son) cheeks???? So cute!  But I digress….
So we are getting his weight checked this week to see if he has grown any.  If he has then we are good to go and he is just a little guy.  If not then we are back to testing for his reflux to see if his body isn't absorbing things correctly or if he is spitting up too much of the milk.
Have any of you had under weight kids?  what did you do?
P.S. Any ideas for skinny boy nick names????  We just call him skinny for now, but I would like something more fun. 😉