7 Tips For Surviving An Amusement Park Summer Vacation With Kids
Are you planning an amusement park summer vacation with kids?  It can be so stressful to get everything ready and know how to manage the children while you are at the park!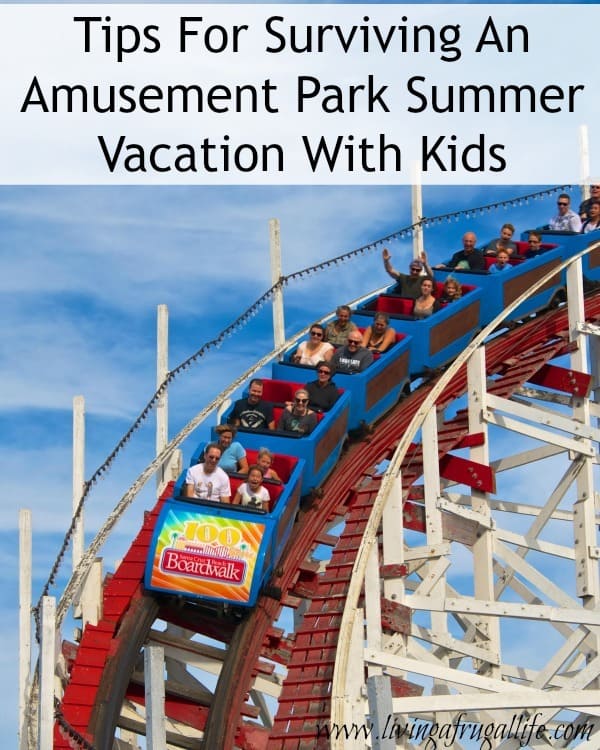 While living close to Disneyland in Southern CA, we got passes and went to the park over 80 times in 1 year with four small kids!  At first, It was stressful, but then we learned a few techniques that made the trips so much more fun and enjoyable for all of us!
Tips For Surviving An Amusement Park Summer Vacation With Kids
1. Be sure to get your number on your kid
Write your phone number on your child. Parents get separated from children in crowds all the time. Use a permanent marker to make reconnecting you quick and easy. Write your number on their wrist and cover it with clean liquid bandage. To remove just use a bit of rubbing alcohol.
2. Map out your plan
Grab a map offline before you go on your summer vacation with kids and plan your visit. Ask a staff member about the areas that will be craziest at the opening and go to them later in the day to skip the rush. Look for team members after the gates; they will have more time to answer questions. This saved us so much time and headache in Disneyland!
3. Use the single rider line
Take advantage of single rider lines on your next theme park trip. Two trips through the single rider lines are often faster than one trip to the amusement park rides in the regular line, and the kids can enjoy something else rather than being cranky in line.
4. Find out height requirements ahead of time
Before going in, look for a stand that shows by height what rides your children can go on. Many theme parks have them for your connivance. At Universal Studios you will find these right outside before the ticket booths. Disneyland has the height requirement in inches and centimeters on the map so be sure to measure your kids before you go. This will help you save time trying to find rides they are a good fit for and let you spend less time wondering to find a good fit.
5. Pack your food
Most theme parks allow outside food with a few ground rules, No hard coolers, no glass, and no alcohol. Packing fresh snacks and meals for the day can save you money and leave you with more time to play when you are not stopping at a booth every ten minutes to feed your child. If you do not pack snacks, look for a meal package to make eating easier on your wallet.
6. Bring a stroller
If you have a baby or toddler with you, bring a stroller with you. Be sure the stroller has plenty of padding. You can rent them in any tourist town. The ones the park rents out are hard and uncomfortable. If you have a baby carrier, bring that as well. Strollers can not go in the lines and wearing your baby will save your arms from an additional workout.
7. Smile
Be nice to the people working to make this day perfect for you. They do not get paid a hefty salary, and they deal with thousands of people a day. The nicer you are, the more helpful they will be to you. Being nice can be extra helpful if something goes wrong, such as employees can get you a refill on that popcorn they seen your child drop or to go chase down the camera you left on a ride or attraction. Employees are your friend and have the best theme park tips.
These tips will make a big difference in your summer vacation with kids!  They will help you and your children have the best time possible on your family vacations and making memories for a lifetime!