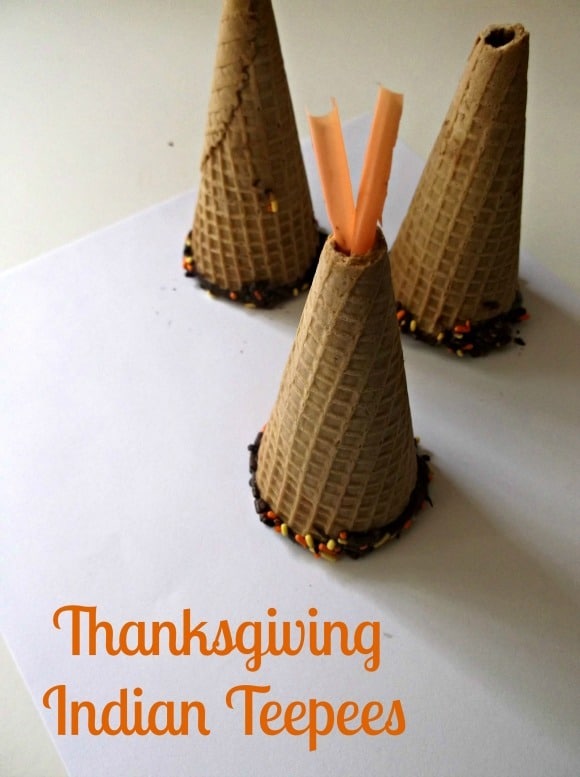 Thanksgiving morning can be crazy and there is always lots of things happening. This thanksgiving kids craft is a great way to keep kids occupied and give them a little snack to keep their fingers out of the dinner foods!
These adorable ice cream cone teepees are great for using as representation of the indians and also a tasty treat for dessert! You can use these as just simply decoration or you can actually use them to eat out of! They are super easy to make and they look adorable and awesome! I hope you enjoy, let's get started on how to make them!
Supplies:
-Sugar cones or Waffle cones
-Chocolate
-Sprinkles
-Straws, pretzel sticks, OR carrot sticks
Procedure:
-First you need to cut off the tip of the ice cream cone using a knife
-Next, melt your chocolate. I used semi/sweet chocolate chips and the bag tells you how to simply melt your chips into a great consistency for this project!
-Now, taking your cones take the open side and dip it in your melted chocolate, immediately put the sprinkles on as your chocolate might dry too fast if you don't!
-If you have pretzel sticks or carrot sticks you can use them as the tops of the teepees as this make the whole thing edible, if not you can use something simple like straws, this is what i did and they still look adorable!
-ENJOY!
What is your favorite thanksgiving kids craft you have done with your kids?
*You can use these as ice cream cones still, throw it a little chocolate over the hole you cut in the tip and allow it to harden!