Using Local Markets To Save Money On Grocery Shopping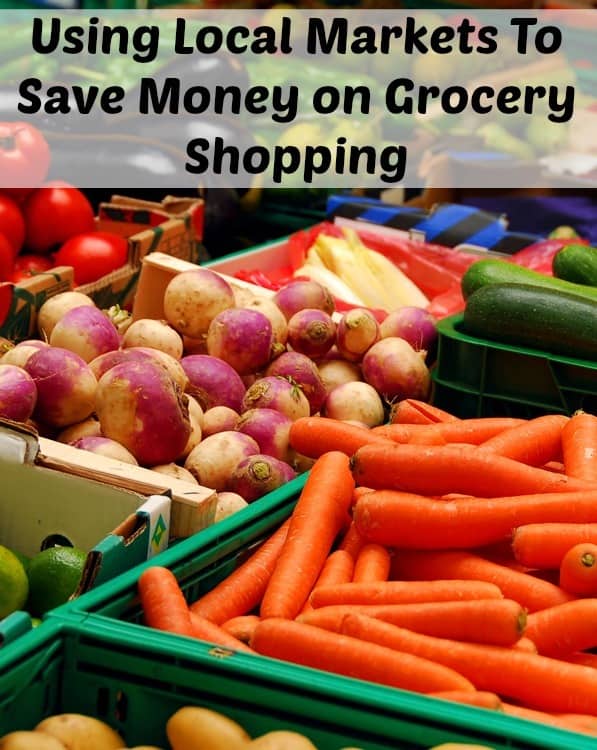 If you are new to this series you may want to start at the beginning HERE.
When we were first married I was a one store shopper.  This isn't very good when you are trying to save money on grocery shopping.  But, like most people in the US we went to the closest place to our house and never cared to research prices or other stores that may save us money.  We had a Save Mart close to us and we went and shopped there religiously.
That all changed when I started to be aware of money and where it was going.  We were spending over $600 a month on our family of 4.  We knew we had a problem and we needed to save money on grocery shopping.  So I began to branch out when I started couponing.  I started to go to other stores and found some great deals and much better quality of produce and meats at lower prices.
Then one day a friend of mine rocked my world.  She told me about a market in down town Fresno that was open year round and sold fresh produce for mostly $.50 a pound!  I  was shocked! I had no idea this place existed. Heck, I didn't even know they could sell produce for that cheap and make money!
I headed down town and was overwhelmed with the choices.  It took me about 30 minutes just to decide what to get.  I was so excited I came home and called everyone I know. I told them that they had to go check this out.  It was amazing to go and leave with a weeks worth of produce for about $10!!!
The produce was great!  It was a market run by local members of the community, they took cash only and were very helpful.  The fact that the market was year round was a HUGE plus because I was able to get the in season items.  During the winter I honestly had no idea what to do with 1/2 the things, but I was able to consistently get all the produce we needed for about $10 a week!!!
Using Local Markets To Save Money On Grocery Shopping
To find the market that will save you the most money takes some trial and error, so don't be afraid to not love the first place you go.  Here are a couple tips so you can help you to find the market that works the best for you.
Not all farmers markets are the same
Not all markets are the same however.  We went to the weekly farmers market that is close to our home and the prices were higher then the sale prices at the stores.  This market is more about the feel of the market rather then the produce itself.  These types of markets aren't helpful when your trying to save money on grocery shopping.
We have another one in the area that has prices similar to the store but it only runs a few months out of the year.  It is important to know how your farmers market runs when you are planning on using it regularly.
It is also important to know other things as when like your price points.  This can determine if a market is worth your time and your money to go to.  Be sure you also know if you want organic or non-organic produce as the markets will vary on that as well.
Finding a local farmers market
So how do you find your local market?  First off you want to search the internet.  This is a great way to find the high traffic places and to get your feet wet with local markets.
The second thing you want to do is ask everyone you know if they know of a market.  That market I talked about is not advertised anywhere, so if my friend hadn't told me I would have never known.
Lastly, you need to be prepared.  Take only the cash you want to spend, have your own bags, and if the price isn't right be prepared to walk away with nothing.
Finding a market you like is a learning process, sometimes you have to go through 3-4 to get the one you want and need, so don't be afraid to try out different options the next option might be the one that will save money on grocery shopping!
Do you have any tips for finding or shopping at a local market?