8 Frugal And Fun At Home Activities for the Kids To Do Indoors
One of the biggest issues we have is boredom in the hot, summer afternoon hours.  Frugal and fun at home activities are hard to find, especially when the kids have to stay indoors.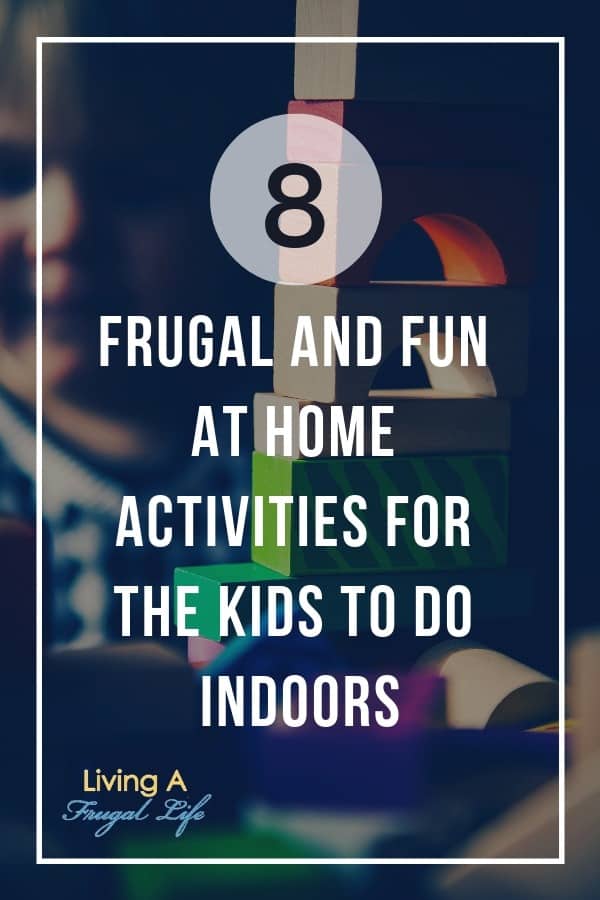 I am sure all of you have experienced the same problem. It is hard to keep kids occupied, especially the younger kids, without turning on the TV.  There are a few things that are great things to get from the dollar store that keep kids occupied when it is too hot to go outside.
1. Puzzles:
There are puzzles for all ages now.  This is a great thing to have around the house for days when it is hot.  My kids love to do puzzles.  My 3 year old spends at least 45 min just sitting and working on his puzzles.  At first you may have to sit and work with your kids so they know what to do, but after a couple times of them doing the puzzle and they can do it on their own.
2. Coloring Books and Crayons:
These are always at the dollar store and they last long enough to be worth the dollar! 😉  If you have 1 or 2 for each kid, you will be set for at least a little while.
3. Pencil and scratch paper:
Drawing can sometimes last for a while, other times it is a quick activity.  But it is something to do for a while none the less.  One of my kids love to draw, the other is not so into it.  So you can use this the best you can.  But kids love to draw, they also like to show mom what they drew and tell you all about it!
4. Homemade play dough:
There are lots of recipes for homemade play dough on the net.  They usually include water, salt, flour, and baking soda.  This site I found has a lot of options so you could do so you can use things you already have at home.  The kids will love making it as well.
5. Edible play dough:
I love peanut butter play dough.  It is super easy and my 2 year old can eat as much as she would like.  Here is a good recipe for it.
6. Books:
The Library and the Dollar store are great places for books for kids.  The library especially gives you lots of variety and the kids love to go there and pick them out.  so you could spend one day there and then other days at home with the books.
7. In home dance party:
Just turn on some music and dance!!!
8. Finger painting:
This one could get messy so be sure to plan for that.  Take paper and paint and just let the kids go!  aprons or older play clothes are great things to use to keep the paint off them.  if you don't have either of them, then trash bags (cut holes for arms and head before putting it on them of course) or plastic wrap are other great options.
These activities are frugal, fun and don't involve TV to keep the kids occupied.  This is fun for all ages!
Do you have any other ideas of thing to do on hot afternoons??