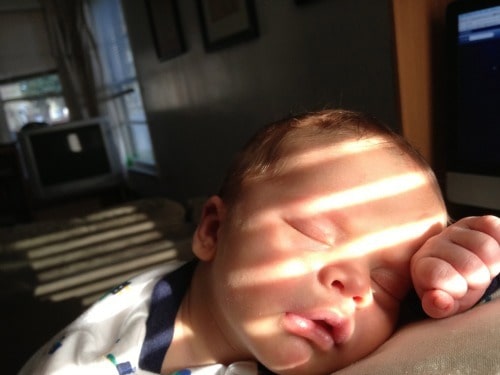 So some of you may have noticed I am not posting as much.  I promise that will not continue forever, but I thought I should take a minute to write a little bit why I have been off and on with posting.
The day Quinn was born, I noticed something different about him.  He didn't eat in the hospital for 28 hours.  Instead he spent the whole time spitting up moucus and ended up turning blue at one point.  We had to teach him to eat and he continued to reflux the milk back up.  We have gone to the drs twice for his reflux and we are in the process of trying different combos of meds and diet to try to get him help.  Progress has been slow but we are beginning to see some things that are helping him so I am happy to not be holding him everyday all day and night.
Each of our kids has had some form of reflux.  I expected it a little, but this is the worst it has ever been.  I have never had a kid choke and gag and reflux as much as he does.  He has grumpy days and not so grumpy days so some days are easy and others are not.  I sometimes spend all my time holding him, which is a good and bad thing.
I use a wrap a lot to hold him when my hubby isn't home.  It is the only way I get to do any housework or make food.
To top off all this, I am now on a dairy and soy free diet.  I don't mind it so much as it forces me to eat healthy, and I am looking forward to the weight loss and the health.  But it does take a lot more time to prep food and eat as I should.
I am working on finding my balance and unfortunately things have to give until I can get the balance right.  So I am posting as much as I can until we get everything in the right order and out t's crossed and i's dotted.  I hope that happens sooner then later.
I appreciate each of you and you continuing to read my blog this whole time.  And as a reward… 😉 you get to see some CUTE pics of my little guy! (I am not biased in any way… 😉 )
You like his fohawk?  it is natural.