Budget Crushed Tomatoes Recipe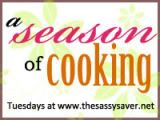 It has been a while since I have posted any cooking things.  I am trying to get back in the habit as I loved sharing recipes and having you all share your recipes.  I am in the process of using all the tomatoes we have been able to grow this year.  The crop has been so wonderful.  I think we should be able to make all our salsa this year without having to buy any from the store!!!  I thought we would have been able to do it last year but we were a few jars short, so I am trying to make about 5 more and hopefully it will be enough.  We eat lots of mexican in our house we have figured out so it goes fast.
Well, in the process of getting ready to make the salsa, the first thing I have to do is make the crushed tomatoes.  This sounds pretty simple, and it is!  I am surprised that it was this easy!
Crushed Tomatoes
as many tomatoes as you want
a couple tsp. of lemon juice to increase acidity
1. Wash tomatoes. You can use tomatoes that have been pealed or not, it is up to you how you want them done. If you plan on just making salsa, you can leave them in. If these will be for all purpose cooking, you will want them to be peeled.
2. cut tops off tomatoes and squeeze out seeds.
3. place tomatoes in food processor. process as fine as you would like them.
4. put on stove with lemon juice and boil for about 30 min. Then can or let cool if you are going to freeze it.
That is it! When we are ready to make the salsa with all these tomatoes, I will put up that recipe!
Be sure to check out more recipes for cooking on a budget.

(adsbygoogle = window.adsbygoogle || []).push({});