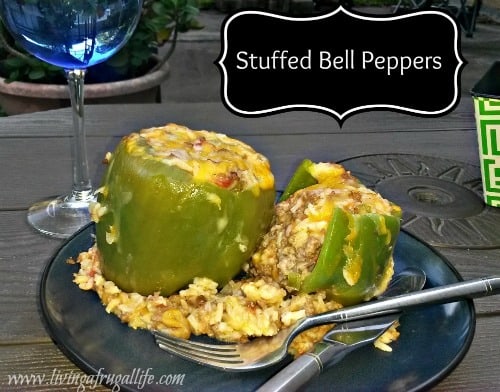 Stuffed Peppers are a great dish for all kinds of occasions. This easy stuffed pepper recipe may be simple to make, but they are far from simple on the palette! A delectable mixture of ground beef, rice, cheese, and tomatoes stuffed into the fresh bite of a delicious green pepper makes this the perfect comfort food for a cool fall evening. It is truly a crowd pleaser and even makes the perfect addition to any potluck. These stuffed green bell peppers are a must have in any cooks recipe arsenal! This is a good, solid, basic recipe for stuffed peppers that offers you the freedom to change to your own liking with very few dishes to clean up after!
I like to use my pyrex baking dishes when I make this dish.  It is perfect because of the high sides and the way the peppers fit just write in the space I have.  This can also be cooked in other baking dishes if you don't have a Pyrex one or another clear glass brand.  It doesn't take much more then that dish and a skillet to get this recipe done!
This is my go to recipe when entertaining friends and family!  You can make as big or small a batch as you need!
Easy Stuffed Pepper Recipe
Stuffed Pepper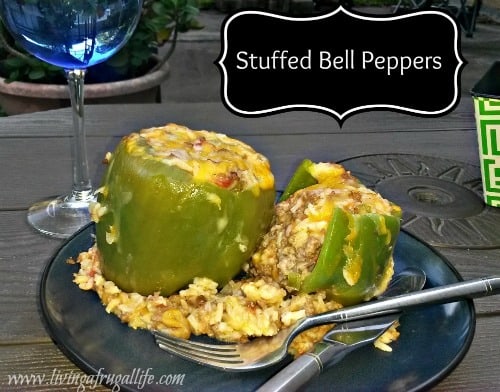 Creator:
Melissa @ Living a Frugal Life
Ingredients
1 lb ground beef
½ onion chopped
1 bell pepper chopped
½ tsp minced garlic
1 can diced tomatoes
3 cups shredded cheese (whatever kind your family likes the best)
1 cup uncooked rice
5 to 6 bell peppers
Directions
Cut the top off the whole green peppers. Clean all the seeds out of the inside and rinse with water.
Put the peppers upside down to drain the water out.
Cook rice according to package directions
Brown ground beef . While browning add chopped onion, chopped bell pepper and minced garlic . Cook till onion and pepper are soft.
After beef is fully cooked, drain grease out then add diced tomatoes, cooked rice and 2 cups shredded cheese.
Put hollowed out peppers in a baking dish and fill with beef/rice mixture. I usually have a little filling left over so I put it in the bottom of the baking dish around the peppers. Cover with foil and cook 425* for 30 - 40 min until peppers are soft. (I like mine with a little bit of crunch to them so I cook them for about 30 minutes.)
After 30 - 40 minutes uncover peppers and add remaining cup of cheese. Cook for additional 5 min or until cheese is melted.
Serve and enjoy!!
If you like this recipe you may also like these
mexican stuffed bell peppers