6 Awesome Black Friday Shopping Tips for Walmart
Black Friday shopping is a tradition in our house.  It started the first year we were married when we got our first TV for $100 after standing in line for 6 hours.  We now use it to get gifts for the kids and each other.  We always make a plan and divide and conquer. Our goal is to get as many gifts as we can and save money in the process.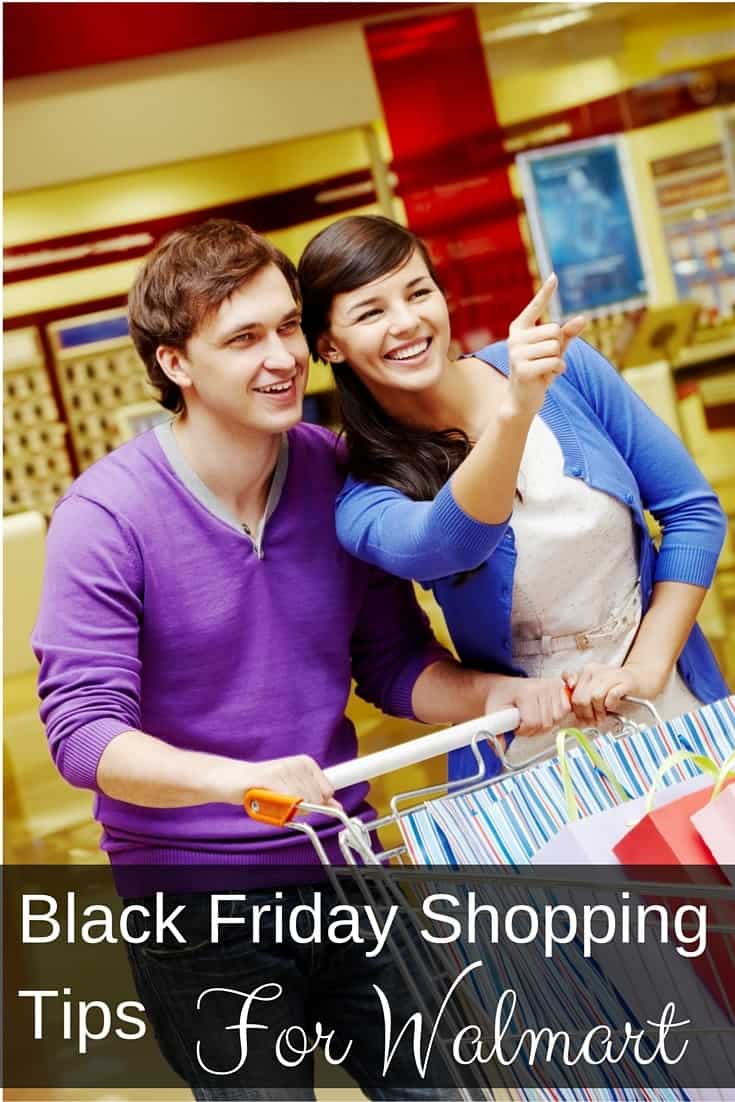 We have learned lots of tips that have helped us to prepare and to save as much as possible!  This year you can save tons of money when you follow these Black Friday shopping tips for Walmart.  Walmart is one of the most popular, if not, the most popular place to do black Friday shopping for Christmas gifts. 
Black Friday Shopping Tips For Walmart
Make lists of your wants.  Grab the ad online or in your local newspaper and make a thorough list of what you are looking for.  Get specific with sizes, colors and how many of each item.  This list will help you to map out your plan for when the sale begins, as well as help should you enlist helpers to break up the list into quadrants.
Enlist help. Extra help is the only way to go if you have more than one item to pick up at the Black Friday Walmart sale.  Shopping with your friends is a great way to help each other out.  If you meet and go over your lists, you can quickly assign someone to each area of the store.  You all grab the items on the lists for your area, then meet and divide to go to pay for items as needed.  It's a great way to make the stress easier and have fun with your friends.
Map out the store ahead of time. It can be tough to figure out where specific items are located, but in recent years our own Walmart put out a special in-store flyer with notes on where the different sale items would be found in the store.  Check your location to see if it is possible to find out in advance so you can map things out for an easier time finding what you need.
Arrive early.  If you honestly plan to shop the sale events, that means you will want to arrive early.  Some items go on sale on Thanksgiving night, while other items aren't on sale until Black Friday morning.  Make sure you note what times your favorite items are on sale so you can be there a few hours early if they are going to be limited stock or hot items. (Electronics are most often the ones in short supply.)
Bring water and snacks.  If you are going to stand in line for a few hours, it is a smart idea to bring some bottled water, a few snacks and even a charger for your cell phone so playing games and posting status updates is easy to do while you wait.
Stay home and shop online instead.  While this may not be as thrilling, it is still a great viable option for many.  Log on to the Walmart site in advance and open up the items you want in tabs.  Quickly add them once they are open to purchase and never have to leave the comfort of your home, pajamas or that cup of hot cocoa and leftover pie for breakfast.
These Black Friday shopping tips for Walmart will help you make the most of your holiday gift budget.  Plan ahead and shop around to make sure you are getting the best deals, but mots of all have a good attitude and have fun.