Crockpot Saucy Chicken and Rice Recipe On a Budget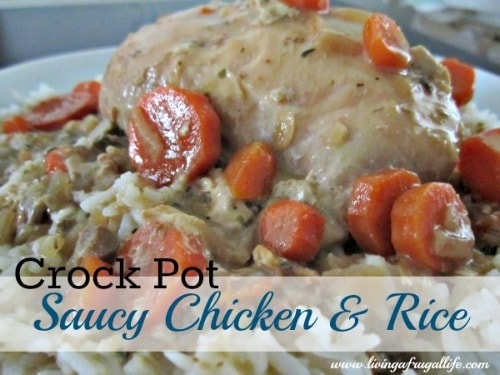 I LOVE crock pot cooking!  Best thing ever!  We also love this recipe.
My mom has always laughed because chicken and rice recipes have always been a staple for me since I started cooking.  But I think this one is a little different and more "high class" if you will.
This healthy recipe is a perfect one to cook a big batch of and freeze 1/2 for another time so you don't have to do dishes as much.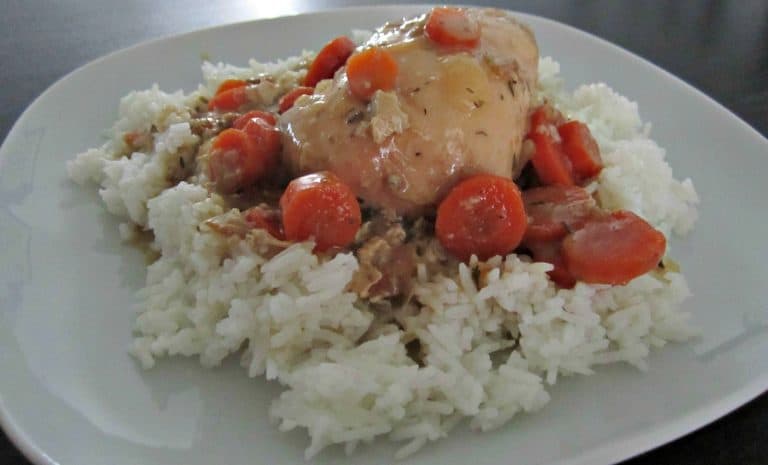 Crock Pot Saucy Chicken and Rice Recipe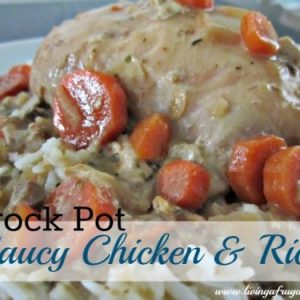 Crock Pot Saucy Chicken and Rice Recipe
Instructions 
In a Bowl combine creme soup cans, onion soup mix, dried thyme, pepper, and dried tarragon in a large bowl.

Add carrots and onions to the bowl and mix

Put chicken into crock pot and pour mixture over the top. Use a rubber scraper to get it all off the sides and into the crock pot.

Let mixture and chicken cook for 4-5 hours on high

Mix corn starch into chicken broth and stir it into crock pot mixture

cover back up and cook for 30 min.

Serve over rice
Be sure to check out more recipes for cooking on a budget.