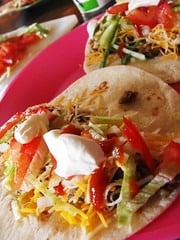 I had a bunch of lentils and had no idea what to do with them.  I searched and searched and found a recipe for lentil taco's.  We didn't have all the ingredients so I made what I could with what I had and came out with this.  It is a favorite of mine as it is so simple and so cheap to make!
1 Onion chopped
2 tsp garlic powder
1 teaspoon oil
1 lb dried Lentils, rinsed
1 Tbs chili powder
2 tsp ground cumin
1 tsp dried oregano
2 1/2 cups chicken broth
1 cup salsa
1. In a large nonstick skillet, Saute the onion and garlic powder in oil until tender.
2. Add lentils, chili powder, cumin, and oregano and cook for 1 minute, stiring.
3. Add Broth, bring to a boil
4. Reduce Heat, cover and simmer for 25-30 minutes or until lentils are soft and can be mashed
5. uncover and cook for 6-8 minutes or until thickened
6. mash lentils to desired texture
7. stir in salsa and spoon into taco shells or tortillas
Top with the taco toppings your family likes!
Hope you enjoy it!
Check out more easy dinner ideas!