Guest Post: Consigning Tips and Tricks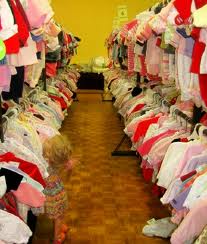 This is a guest post from Melissa at Stockpiling Mom's
I wanted to discuss Consigning for cash!  I am a huge fan of consignment stores.  If you are going to open an account to sell I believe that the selecting your store is key!  You want a store that has been established for a while, has a good location and traffic.  How can you find that out?  Ask for referrals.  Before signing up for an account as around as find out if the sellers are happy.  Ask the store owner how long he/she has been in business.
I consign at two stores.  I have one that sells children's, teens, womens, mens, plus sizes, and household items.  I also have one that specializes in only infant – teen, maternity, toys and children's household and equipment.  I chose these two because they offer me the best sources for resale.  When I worked I consigned at a higher end store however since staying home that is no longer necessary…
A helpful tip is to launder and store clothing at the end of the season so that it is ready to go the the consignment store when they start taking items for the next season.  One store I consign at only accepts items on hangers where the other only accepts them neatly folded in a box.  I launder, press, fold and pack my boxes at the end of the season and mark my seller number on the outside so they are ready to go when the season begins.  For the other I launder, press and hang (all in the same direction), button ans store in a guest bedroom closet so they are ready to go as well.
I find that by doing this I am able to be prepared for the upcoming season.  Not only does this save me time but earns me additional money because my items are ready the 1st day of the new season. I use the money that I earn from consigning as a "bank".  I let it build up and remove it twice a year.  Once in May for vacation spending money and once in December for Christmas.
Tips:
Do not include tattered or stained clothing.
Do not include out of date (style) clothing.
Polish/clean shoes and replace laces if necessary.
Clean toys and include working batteries (do not need to be new).
Bag loose items together in a clear plastic bag.
Wash, press and hang clothing the same way on a hanger.
Melissa taught Family and Consumer Science (Home Economics) on the high school level for 11 years before becoming a mom. In June 2005 after her son came home from Guatemala, she made the decision to leave her career and become a SAHM. In order to achieve this goal and live on one income, her family had to make some drastic changes in their lifestyle.
In December 2008, she began the switch to stockpiling. This new way of shopping or stockpiling was a big change for her.  After just four months she was already saving $200.00 plus dollars a month! Now she is feeding her family for an average of $150.00 a month total!  This new way of shopping or stockpiling has changed their lives!  In 2009 she saved $3600.00 from her families budget through stockpiling.  Her hope is through Stockpiling Moms, she will be able to help others join her on the journey to frugal living.