While cable is one of those luxuries that many households enjoy having, It is also great to save money on cable so your not bursting your budget.  Cable is one of the first things to go when money gets tight. This is how it should be if you can't afford it.  It is a luxury, not a need.
Even though cable TV is a luxury, you may be able to make it work in your budget just by adjusting a few simple things.  So before you decide to cut your cable, read these tips on how to save on cable. You might be surprised to find out there are several ways you can save the cable bill.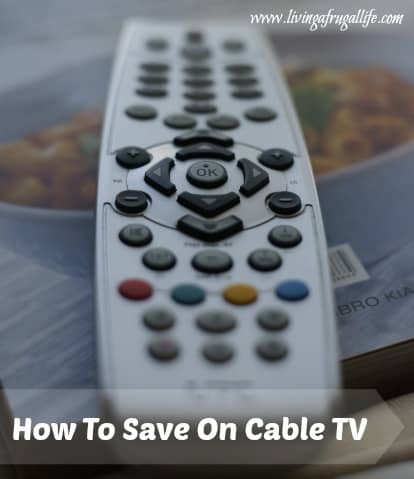 How to Save Money on Cable
1. Ask about Combination Packages – Some cable companies also offer phone and internet. Combining all three services together can often save you a great deal of money. There are also other packages as well that include your cell phone or other electronic devices as well.
2. Lower Your Package – Look through your current cable package and see what channels your family watches. If you are only keeping your current cable package for one or two channels that don't come with the lower package, downgrade ASAP! You can probably watch those other channels online.  Downgrading your cable package can easily save you 25% or more!
3. Shop Around – Call other companies and ask them about new customer pricing promotions. Once you have gathered up some numbers call your current cable provider. Let your current provider know that you were offered such and such price from their competitor. Most of the time your current provider is going to match the competitor's price, if not beat it! If they won't work with you, cancel and go with the competitor.
6. Look for current promotions for your current company – Often if you find a promotional price that is lower then yours, you can call your current company and tell them you want the promotional price.  Most of the time you will be required to have a 1 year contact with them for that promo price but they are often willing to give you that price.
4. Use Netflix & Other Services – If you just don't want to pay for cable anymore but still want to watch television, consider Netflix. Netflix has several package for under $15 per month. You can also look into Amazon Prime, Hulu and purchasing a Roku box. Keep in mind that these services do not offer live local news.
5. Downgrade Your TV's – Most American families have multiple TV's in the house. Each television set you have in your home normally requires a cable box receiver, each receiver normally costs money. Cancel the boxes for all the TV's in your home but one. Depending on how many TV's you have in your home, this could save you $10 to $30 a month.
What other Ideas do you have to save on your cable bill?
Be sure to check out more ways to can save money at home