How to Save Money on Spices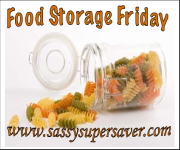 Due to time constraints this week post will hopefully be a short one. I wanted to talk a little about spices. If you buy those big year supply food storage type of thing, it is mostly made of bland type ingredients that you need to spice up a bit. The problem is that spices don't last as long and they are hard to buy in huge amounts because of the cost.


My suggestion is this. Have about a 3-6 months supply of the spices in smaller containers. I say this because If you open a small container it should last until the expiration date and then you can hopefully get them with coupons. This will hopefully help you to be able to have fresh spices for longer so you don't have to have the big expensive ones.


This is also great for those (like me) who have small spaces to store things. We only have so much room in our cabinet for spices and so much room on our storage shelf. So small containers are a must and will help me to stay more organized. We all know that organization helps save money to because your not buying what you don't need.