Homemade Air Freshener That Smells Like Christmas
When I was young, I knew it was Christmas time because of the smell.  My mom would always make a homemade air freshener that would make our whole house smell so good!  I still remember sitting in my house doing homework loving the smell coming fromt he kitchen!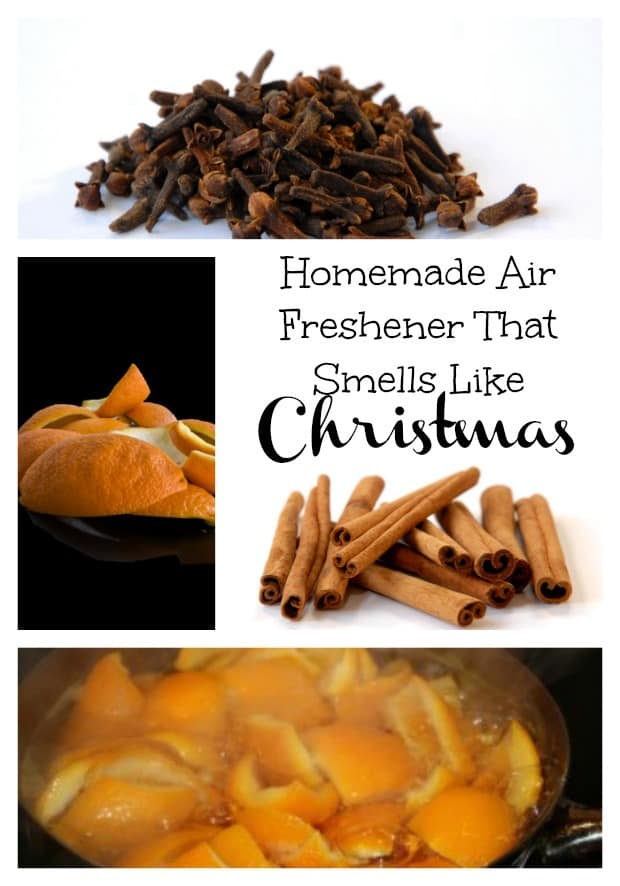 When we moved to Virginia, I learned where this tradition came from.  This homemade air freshener was something people would do in the colonial times, but they would often do it with fresh fruits and spices. Every winter they would fill their homes with oranges and cloves.  They would serve as decor and homemade air freshener at the same time!
It is SUPER easy to do the same thing now!  But we use the fresh stuff in a pot or a crock pot!  This is something a young child could help with too because it takes no cutting or prepping, just putting stuff in a pot and turning it on!
It only takes a couple ingredients to make your house smell heavenly, These are my favorites that always remind me of christmas, but you can use just about anything fresh you have lying around the house!
Homemade Air Freshener that smells like Christmas
Orange peel (enough to fill 3/4 of the pot)
water to fill pot
1/2 tsp. cinnamon or a couple cinnamon sticks
about 5-10 cloves
Fill a pot with orange peels and water
add cinnamon and cloves to the pot and put it on medium heat.
The water will start to boil and make the house smell super good and Holiday like!
Another option is to make this homemade air freshener by using a crock pot and have it on low the whole day!  Then you don't have to think about it, except when you are thinking about it when you smell the sweet fresh goodness!!