Fun Halloween Crafts: Halloween Spider Plate Craft For The Home
It is time for some fun Halloween crafts! We decorate with this craft for the home every year and love the feeling it brings to our home as we spend family time as we decorate.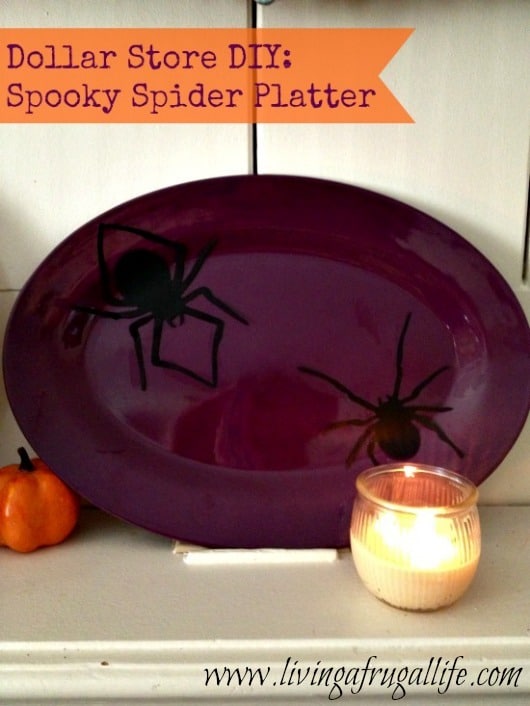 Spiders and the Halloween season go hand in hand, which is why this spooky spider platter is the perfect accent to your fun Halloween crafts.
Not only is it fun and festive, but since you can buy all of your supplies at your local Dollar store you will find it is frugal as well. Take a peek below at how to make your own dollar store DIY this Halloween season.
Fun Halloween Crafts: Halloween Spider Plate Craft For The Home
Supplies Needed:
1 package of die cut spiders
Craft glue or Mod Podge
1 Oval plastic platter
I was able to find all of the supplies needed for this craft at my local Dollar store or on Amazon. Should you wish to use Mod Podge instead you will need to visit your local craft store. I did find that regular craft glue works just fine as well it just may not seal and protect as Mod Podge does.
Directions:
1. First, you want to decide how spooky your platter will be. Do you want one single spider or a whole family of them crawling on the plate? Once you decide, lay the die cut spiders on the plate where you think you want to glue them.
2. Now, apply some glue to the back of each spider. Press them onto the platter and use your palm to smooth over them. This will remove any air bubbles or wrinkles.
3. Take your finger or a paint brush and apply a light layer of glue over the top of the spider. This will help seal it to the plate a little better. If you are using clear drying craft glue, feel free to put a coat over the front of the entire platter to secure the cut outs.
That's it! Your platter is now ready for display with your other fun Halloween crafts! While you won't want to serve food on it or get this platter wet, you can prop it up on your mantel, bookshelf, or anywhere that could use a little Halloween haunting charm.
Head to your local dollar store and gather the supplies you need to make your own spooky spider platter craft for the home. You won't be disappointed!
Check out these other Halloween ghost light decoration and spooky bat papercraft.