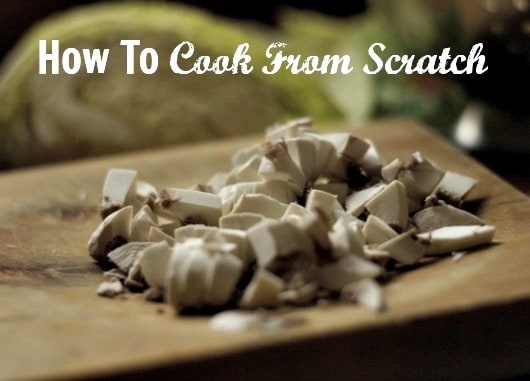 Learning how to cook from scratch can be a very easy process if you break it down.  It is definitely a process.  One, that for a lot of people, happens over time.  There is no need to rush the process or to thing you have to jump in with 2 feet if you are going to be successful.
When you make the changes one at a time you will be able to slowly become more and more healthy and simplistic in your cooking.  Sometimes by going too fast you will set yourself up for failure.  So just try to remember that slow and steady wins the race when it comes to making the lifestyle changes needed to cook from scratch.
Start with one change in your pantry and slowly move to following one of the tips to cook from scratch.  If you need any help, you can read one of the suggested books or follow one of the suggested cookbooks.  These are great resources with pictures and guides to help you make the needed changes and recipes to inspire you.
Steps for How to Cook From Scratch
Start with 1 ingredient and stock it in your house, then move to 2,3,4 and so on.
Pick you favorite from scratch recipe and be sure you have enough of the ingredients stocked in your house.
Cook it once a week for a month.
While continuing that recipe twice a month, pick another recipe and be sure those ingredients are well stocked in your house.
Cook this recipe once a week for 4 weeks.
Add it to your twice a  month pile and move on to the next one.
Continue this process until you have enough recipes for 2 weeks without the same recipe.
By now you should have a pretty well stocked pantry of ingredients to work with.
Slowly get rid of the items that aren't helpful in your new cooking from scratch lifestyle.
Basic Pantry and Fridge Staples
Baking Soda
Baking powder
Beans, canned: black beans, red kidney, white Beans, dried: red kidney, great northern, lima,lentils, split pea, black, pinto
Bread crumbs
Broth, dried and canned: beef, vegetable, chicken
Butter
Cereal
Chocolate: unsweetened squares, semisweet chips, cocoa powder
Cooking spray
Cornmeal
Cornstarch
Crackers
Dried fruits: raisins, apricots
Eggs
Extracts: vanilla, lemon, almond, orange
Flour: All-purpose, whole wheat, cake, bread
Fruit preserves, jam, jelly
Garlic, fresh
Gelatin: powdered, unflavored
Milk: boxed, powdered, evaporated milk
Nuts: almonds, peanuts, walnuts, pecans, pine nuts
Oil: olive, vegetable, canola
Onions: red and yellow
Pasta, dried: spaghetti, linguini, angel hair, fettuccine, penne, noodles
Peanut butter
Potatoes, fresh
Rice: long-grain, wild, basmati, arborio
Salt
Shortening
Soup: canned and dry bouillon
Sugar: brown, white
Tomatoes: canned whole, crushed, chopped, puree, sauce, fresh
Tuna, canned
Yeast, dry active
15 Tips to Teach You to Cook From Scratch
Keep your pantry and fridge stocked
Don't be afraid to substitute
Dry your own foods
Can your own produce
Use a garden in acceptable seasons in your area
Use your crock pot
Prep your meats before you freeze them
Make breads and freeze them for later
Make meals in bulk and freeze them for later
Make your snack food
Make your desserts
Baking mixes help you to cut time
Practicing once a week or month prep helps you to be more committed as it is easier
Plan your meals
Use your leftovers
Suggested books on How To Cook From Scratch
 How to Cook from Scraps – With more than 50 recipes and lots of tips, How to Cook from Scraps is the perfect book for anyone who wants to go beyond meals that come out of a box or the freezer aisle. Learning to cook from scraps is about cooking efficiently and throwing away less. Sometimes cooking from scraps is learning to reinvent leftovers. Sometimes it is making your own broth. Cooking from scraps is always about making the food you already have in your house go further. Cooking efficiently means saving money, creating less waste, and making meals entirely at home. This book focuses on the recipes that are both from scraps and from scratch, but you will find as you make the meals that the tips for cooking this way will make you think differently about how your kitchen is organized. If you don't do any cooking from scraps or scratch yet, don't be daunted. We will take you through the steps you need to change from a throw-away kind of kitchen, to a kitchen that makes wholesome and "whole" foods.
The Homemade Pantry – Alana Chernila inspires you to step inside your kitchen, take a look around, and change the way you relate to food. On a mission to kick their packaged-food habit, she learned that with a little determination, anything she could buy at the store could be made in her kitchen, and her homemade versions were more satisfying, easier to make than she expected, and tastier. Whether you are trying a recipe for butter, potato chips, spice mixes, or ketchup, you will discover the magic and thrill that comes with the homemade pantry.
Starting From Scratch: Memoirs of a Wondering Cook – Patty Kirk has always loved food: eating it, cooking it, sharing it, talking about it. At six, she scrambled the last of the family's vacation provisions over the camp fire and concocted a delicacy-eggs with bacon and onions. Overnight she became the family cook and discovered a lifelong passion for cooking that accompanied her through decades of roaming and finally to the farm in Oklahoma where she now lives. Starting from Scratch narrates Kirk's wanderings in the U.S. and abroad from a culinary perspective, sounding the spiritual, political, and emotional depths of Brillat-Savarin's famous observation, "Tell me what you eat; I'll tell you who you are." In this candid and engaging food memoir—complete with recipes!—good food beckons from the past as well as the future: surrounding us, eluding us, drawing us, defining us.
Cookbooks that Teach How to Cook From Scratch
Easy Home Cooking for Busy people – A general cookbook with quick and easy recipes from scratch for busy people with no time to cook.  45 recipes ranging from soups and dips to edible gifts and goodies.
Homemade with Love: Simple Scratch Cooking – Jennifer Perillo has long written on the pleasures and importance of cooking from scratch, buying local, and eating at home. Jennie shares her love for her farmers' markets and local purveyors while dishing out a hearty dose of practical culinary know-how for the working parent—or any busy cook.
A seasoned recipe developer and personal chef, Jennie has crafted shortcuts (like two homemade all-purpose baking mixes, used as a base for baked goods such as breads, muffins, and cupcakes) to make good eating just a little easier. Try recipes like Orange-Scented Waffles, Carrot Fennel Soup, Lentil Ricotta Meatballs, Drop Biscuit Chicken Pot Pie, Strawberry Blender Sherbet, and Lemon Buttermilk Doughnuts. Simple, soulful recipes for every meal of the day emphasize farm-fresh produce and whole foods.
From Scratch: Traditional, whole food dishes for easy everyday meals – Think glorious foods from scratch are impossible? Think again. "If your looking for a cookbook that is as entertaining as it is delicious, then look no further. From Scratch is a breath of fresh air when it comes to learning how to traditionally prepare and cook nutritious food. These meals are easily prepared and yes, easily devoured.
Make The Bread, Buy The Butter – Economizing by making her own peanut butter, pita bread, and yogurt, she found that "doing it yourself" doesn't always cost less or taste better. In fact, she found that the joys of making some foods from scratch— marshmallows, hot dog buns, and hummus—can be augmented by buying certain ready-made foods—butter, ketchup, and hamburger buns.  Make the Bread, Buy the Butter has 120 recipes with eminently practical yet deliciously fun "make or buy" recommendations.
The Pantry Cook Book – How to cook nutritious meals from scratch, on a budget, when time is short – The Pantry Cookbook: how to cook nutritious meals from scratch, on a budget, when time is short. The American diet is all too often a mishmash of pre-made, mass-produced foods which are expensive, high in calories, and low in nutrients. The popular alternative, gourmet cooking, makes all home cooking appear to take long, and involve expensive, intimidating ingredients. But home cooking doesn't have to be this way. In the Pantry Cookbook, you will learn fundamental recipes and cooking techniques that allow you to whip up nutritious, cheap meals, from scratch, in a minimum of time. This is a user-friendly textbook for beginning cooks, a reference for those who wish to rely less on canned soup and instant side-dishes, and a resource for those who already know how to cook a few things but wish to have a more solid foundation of cooking skills. The Pantry Cookbook has over 130 recipes, including basics like hard-boiled eggs, baked chicken, boiled beans, boiled grain, and sautéed vegetables; classics like beef stew, borscht, and pulled pork; and "Quick Recipes" that can be put together in thirty minutes on a weeknight using ingredients prepared on a weekend. Additional features include shopping lists and menus for a week's worth of meals, an extensive list of substitutions, boxed lunch suggestions, kitchen safety information, money-saving tips, spice mix recipes, ideas for feeding toddlers and other picky eaters, and a complete Thanksgiving menu.
The Fannie Farmer Cookbook – The new recipes reflect ethnic influences—Mediterranean, Moroccan, Asian—that have been adding their flavors to American cooking in recent years. Tucked in among all your favorites like Old-Fashioned Beef Stew, New England Clam Chowder, Ham Timbales, and Chicken Jambalaya, you'll find her cool Cucumber Sushi, Enchiladas with Chicken and Green Sauce, or a layered dish of Polenta and Fish to add variety to your repertoire.
Throughout, cooking terms and procedures are explained, essential ingredients are spelled out, basic equipment is assessed. For the diet-conscious, there is an expanded nutritional chart that includes a breakdown of cholesterol and fat in common ingredients as well as in Fannie Farmer basic recipes. But the emphasis here is always on good flavor, fresh ingredients, and lots of variety in one's daily fare, which Marion Cunningham believes is the secret to a healthy diet.