We Are Now a Homeschool Family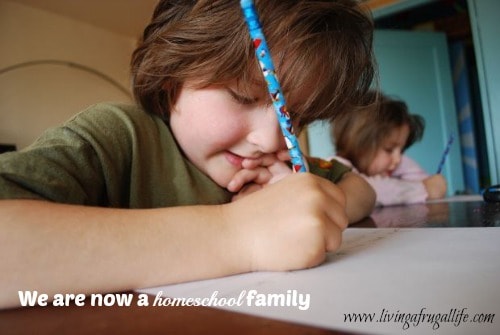 Wow, what a year this has been for my son.  I can honestly say I never thought we would have this kind of a school experience.  Before I say anything more about it I want to first say that I don't judge anyone for their school decisions for their families.  I think some public schools can be wonderful and completely what kids need and I also look up to those who have been able to give their kids the education they needed at home.  I think it is all about the needs of the kid and the families.
But for us school has been harder then I ever thought possible.  My oldest son has always been a higher level thinker.  It has been nothing we have done as parents, he just has always been that way.
In preschool he did very well, developed like he should have and had a wonderful teacher that worked hard with him on his weaknesses and focused on his strengths and let him thrive.  As he entered Kindergarten he was still 4 years old.  He was very ready academically and we knew he would have an adjustment period emotionally.  And we were right.  For the first couple months of school he struggled to focus and to get done the things he needed to.
But the teacher worked with him and he was able to get past it and had a very successful and happy year.  Then there came first grade.
Lets just say it has been a long year.  He started off the first grade just like kinder.  Had a really hard time with being there all day and struggled to focus.  The biggest difference was that his teacher did nothing but be negative to him.  He struggled to find his place in the classroom of 36 kids and it never really happened.  The teacher didn't care.  She would try for a day or 2 and then stop trying.
He eventually got sent to another class to do his work because e couldn't concentrate in his own class.  All this time I was not even aware this was going on in the class.  I found out when my son mentioned something about "when he goes into the other class to do his work."  I asked the teacher and she said "if it helps him isn't it ok?"  I told her that I am fine with it as long as she talks with me about it first.  I had no idea he was even having trouble concentrating in class.
This sort of a thing continued the whole year.  The teacher never talked with me about anything.  I watched my son continue to get more and more lost in school.  His work was done, his grades were fine, but he just was not himself.  I decided at that point that I was going to homeschool him next year.  I asked him about it and he was so excited.  I prayed about it and received a very strong answer.  I know it is the right thing for him.
While I know there are schools out there that are still doing well and that have amazing teachers (we used to live very close to one), I have to say that as a whole I think the school districts are really going down hill.  More and more the focus is moving away from the kids.  I don't blame a teacher being overwhelmed by 36 kids in her class when she has no help or aid in the class.  The parents can only do so much for a teacher and there are only so often they can be in there.
I do blame the set up as a whole, the priorities of those who are deciding where the money goes and the lack of responsibility of those who are involved.  It seems that no one is taking responsibility for their actions.
So because of all these things, I truly feel like homeschool is the way to go for my kids.  I have found a great charter school in the area that you can homeschool through.  It gives you guidance and money to put the kids in extra curricular activities like music and a physical education type activity.
I am super excited to start this journey with my family.  I never thought I would be that kind of mom.  Having 4 kids in 6.5 years I was really excited to have a break from at least 1 or 2 kids.  But now I am choosing to have them home.  I am making that choice because I want to do what is best for my child.
Do you homeschool?  Why do you choose to do that for your family?
(adsbygoogle = window.adsbygoogle || []).push({});