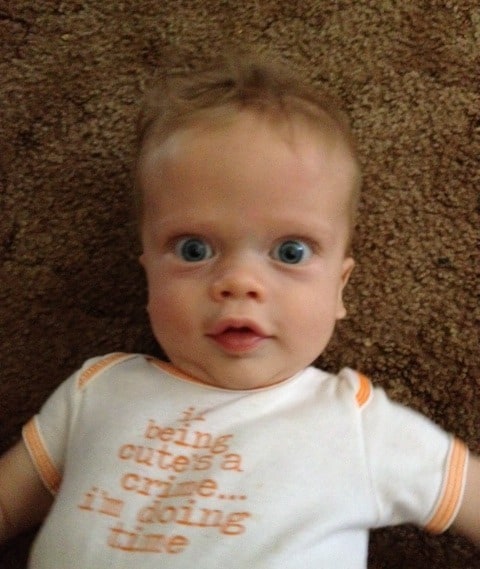 If you missed the first part of the story, you can check it out HERE
We had another appointment for him. I went in hoping for at least a pound. We got to the office, went into the room and waited for the nurse to come in. When she did, we talked for a few minutes so she knew what was happening and she pulled out the scale which is under the table in a drawer. I waited for the numbers to hit 0 so I could put him on the scale. Time seemed SO slow at that moment.
I placed him on the scale and watched the numbers jump around as he squirmed. finally he stopped and so did the numbers. 11lbs 14 oz. This was only 3 oz more then a month before. My heart dropped. I knew what it ment.
The nurse said the" dr will be in soon to discuss it with you." and walked out leaving me with my 4 kids watching Dumbo while we waited…. really? they put me in the Dumbo room?
When the dr came in the door he asked me "did he make it to 12 lbs at least?" I shook my head. He opened up the chart on the computer to see where he was. He put it on the growth chart so I could see just how far below the chart he really was. We began to talk about what it means for Quinn.
Number one is to figure out what is causing it. The dr suggested formula to see if it is a calorie issue. I am hesitant to start formula for a number of reasons and so I asked if I could try to increase the calories in my milk. I suspected I had a slight imbalance in my milk so I wanted to test out that theory first. The dr agreed to let me try it and he said he was referring us to the GI dr at the children's hospital here so we can get testing done and make sure he doesn't have a problem with his digestion.
I get to try out my theory of nursing for a couple weeks and then we have him weighed again to see if it is helping.  In the mean time we got an appointment with the DI specialist for August 16.  I wish it was sooner but they have lots of people to see.
Thank you everyone for your kind words and encouragement.  This is an adventure for us for sure.