When I was using coupons a lot, one of the most common questions I get is where to find coupons?  There are many places you can go to find coupons, but I find most of them will only have a few coupons, or will only have a few coupons for the type of product you are looking for.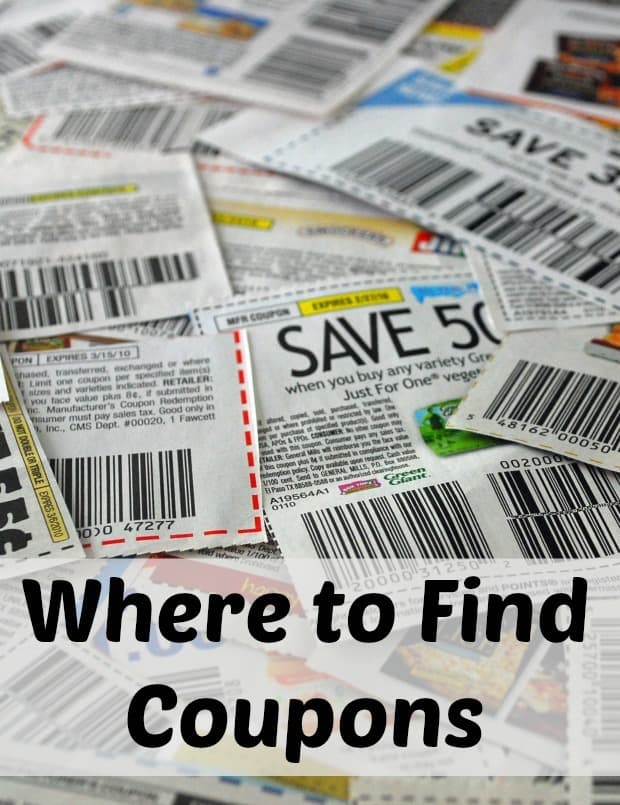 I find that there are a few places you want to go for grocery coupons that have most of your coupons you want for using when learning how to coupon.  I always search those first when looking for a coupon.  Then I combine the coupon with a sale to get the best price.  Here are my top 8 places I do to look for coupons when I need to use them.
Where to Find Coupons
Coupons.com – lots of printable coupons for all types of products
Newspaper – collect the coupon inserts from your Sunday papers  They pay for themselves when you use 2 coupons!  If you need a discount newspaper subscription be sure to check out the Newspaper subscription deals!
Redplum.com – another site full of printable coupons
Mailers from companies – when you sign up for companies mailing lists they often send you coupons to try their products.  So google the products you love and get on the mailing list
Smartsource.com – Great site for rare coupons that you can print from your computer.
In free samples – most of the time you get a coupon for your first purchase of a free sample.  This is one of the biggest reason to sign up for free samples!
Shortcuts.com – another site where you load coupons onto your store card.  these coupons come off automatically when you buy the product.
In stores – these can be on tear pads, hanging on products, or even is store coupon books
Check out more tips on saving money on food!
Where do you find your coupons?