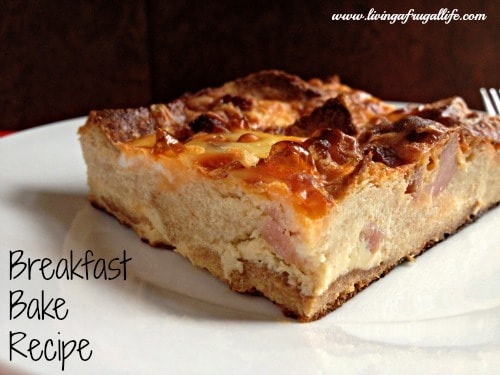 Making a Budget Breakfast Bake for breakfast will not only help with your cost, but it will also help to make a good breakfast in a quick amount if time.
This is an egg bake recipe type of a meal.

Ingredients
8 Eggs
3 Cups Milk
3 tsp. dry mustard
2-3 Cups Cheese
1 lb Ham Cubed
8 Slices of Bread, broken apart
Directions
Add all ingredients in a greased 9 x 13 pan.
cover with foil and refrigerate over night.
In the morning Bake for 1½ hours at 350 degrees
You could add other items to this such as Bell Peppers or onion as well.
What items would you add to this recipe?
Be sure to check out more recipes for cooking on a budget.