Simple Fall Sensory Bin On A Dollar Store Budget
Fall is full of so many changes and a great way to teach kids about those changes is a fall sensory bin. There are shifts in the weather, in nature, and in our homes as we prepare for the upcoming celebrations and holidays. A fall sensory bin is an excellent activity for children wanting experience the season in a hands-on way.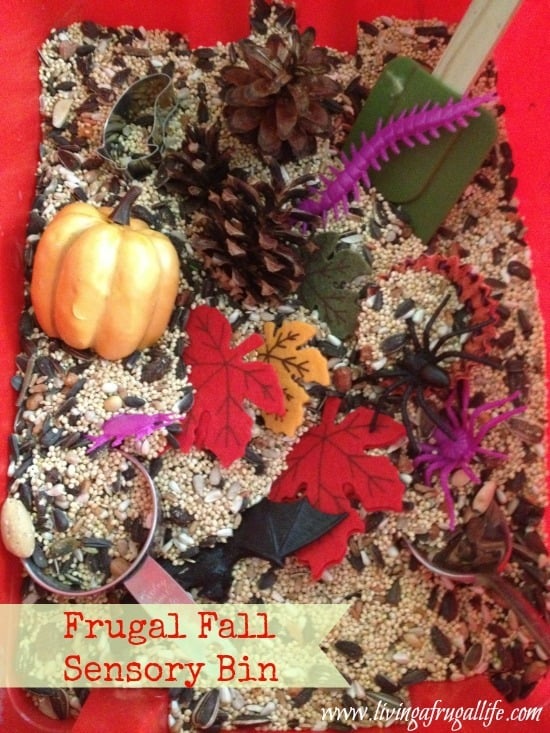 You don't need to be super crafty to make one, nor do you need a lot of supplies. In fact, a quick trip to Dollar Tree is all you need to create one of your very own Take a peek at how easy it is to make a frugal fall sensory bin using Dollar Tree supplies and a few items from your home.
Frugal Fall Sensory Bin
Supplies Needed:
1 medium-sized plastic bin
Assorted pinecones
Plastic bugs, bats, skeletons, Halloween assortment
Halloween themed cupcake cups
Faux mini gourds and pumpkins
Various kitchen utensils (spoons, measuring cups, ladles, tongs)
Birdseed or sand
I was able to find everything here except the bird seed at my local dollar store. For just a few dollars I was able to put together an excellent selection of items for this fall sensory box!

Directions:
1. Begin by filling the box with your base. You can fill it with either sand or birdseed. Bird seed is nice to use since you can take the box and play outside not worrying about if any spills. If it does, the birds will clean it up for you!
2. Fill your box halfway then proceed to put the manipulative items inside. Use all of your fall findings and kitchen utensils.
3. Now, introduce the box to your child. Talk about fall and what we see during the fall months. Show how some of these items are in the fall sensory box.
4. Demonstrate how the sensory box can be used to practice small motor skills such as scooping, stirring, pouring, measuring and more.
5. Now, just place the sensory box at the child's level and let them dig in!
Children will love digging into their sensory box and play with all of the variables inside. It is a great way to explore the season while practicing some lifelong skills! So head to your Dollar Tree store and find the supplies you need to give this frugal fall sensory box a try!
Check out more Home DIY ideas!