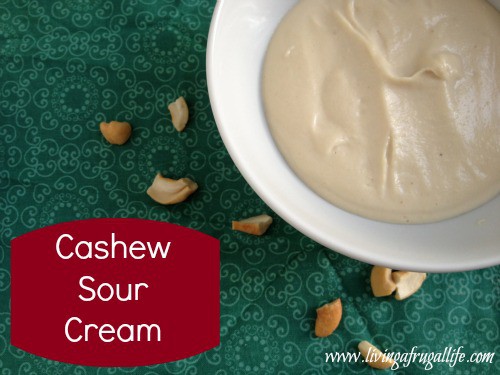 As I have been on the look out for new and exciting frugal recipes that are dairy and soy free.  I was making a dish that needed sour cream, and due to my dairy and soy free diet I am not able to use sour cream so I went on the internet and searched for what to use.  I was looking for a substitute, but then I came across a recipe that made sour cream out of cashews.
I printed it off, made some adjustments so it was more like sour cream and I tasted it.  I LOVE IT!!!  It is SO yummy and tastes just like real sour cream.
This would be great on the Low Budget Cooking Chicken Enchiladas
Dairy Free Cashew Sour Cream Substitute
Dairy Free Cashew Sour Cream Substitute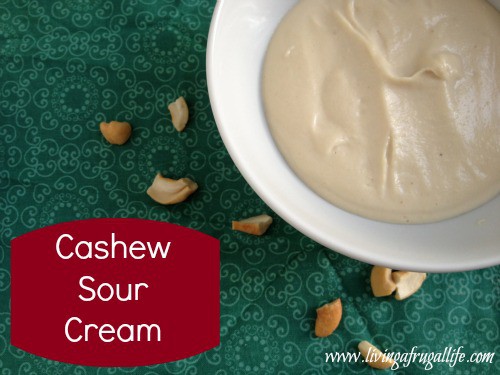 Creator:
Melissa @ Living a Frugal Life
Ingredients
1 cup raw cashews (must not be roasted or salted)
¼ teaspoon salt
1 -2 teaspoon apple cider vinegar
3 tsp lemon juice
¼ cup cold water
Directions
Cover cashews with water and soak while you prep other ingredients. (you can soak for up to 12 hours before you use them)
Add cold water, salt, vinegar and lemon juice.
Pour off all water from nuts, and place in food processor.
Puree for 3-4 minutes or until completely smooth and creamy in consistency.
Use in any recipe that calls for sour cream.
stores in the fridge, in an airtight container, for up to a week.
What do you make with sour cream?
Check out more frugal recipes!