Kids Bedroom Makeover: Making Room for 4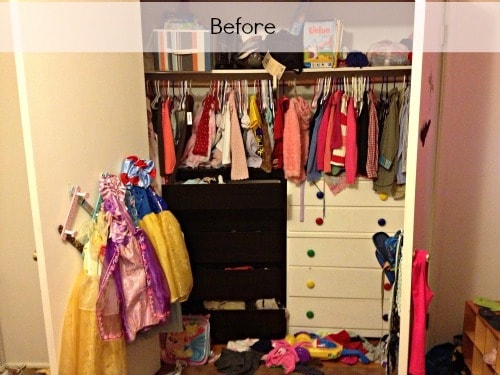 With Number 4 due in 2 short months we have started to do a little makeover of the kids room so everyone will fit.  As some of you may remember a year ago we moved into a 950 sq. foot house with at that time our family of 5.  We will now have 6 and will not be moving into a bigger place.  So we are making it work and we are simplifying even more to make it happen.
I have a friend who lived in a studio apt. with his family when he was little.  They had 6 people in the studio, so I am trying to keep in mind that we can make it work if we need to.  I wanted to show you a before video of the room.
No, I don't want to show you.  I really don't.  It is too embarrassing!  This is the way we have lived for the last few months because I wasn't very organized and I was just lost until I had a friend show me one thing I could do.
Then one thing led to the next and we now have a plan to fix the room so it will easily be used by all 4 kids.  Now I look at it and think that you could probably fit 5 in their easily if needed…. but we wont be doing that anytime soon that I am aware of. 😉
So despite my embarrassment… here is the before of the room.
Excuse the bad phone video.  I am still learning how to take videos on my phone.
Please tell me your kids rooms look like this sometimes!  No seriously tell me so I don't feel so bad!