13 Small Space Organizing Must Haves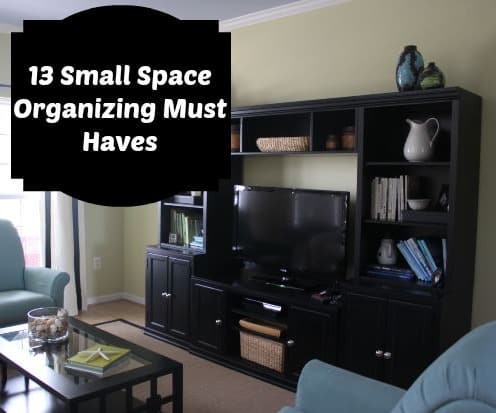 I am often asked how we are able to have 6 people live in a 2 bedroom house, homeschool and have baby items and fit all of us in.  It is all about having the right tools and having limits.  At times it is super hard.  I get overwhelmed and we all feel like we are on top  of each other.  But, we try to space out and get our alone time when we can.  It helps me to make sure we have a few key items to cut down on the stuff and clutter. {Affiliate Links}
Organization and storage for small spaces
small desks – computers are small now.  There is no need to have large desks to collect your clutter on.  Have a desk with just enough space to give your computer the room it needs.
closet doublers – This is the best invention ever!  This simple and very cheap item makes fitting your wardrobe in a small closet simple and it makes it work!  We used a few of these in our kids room to make it hold 4 sets of clothing without having a dresser.
storage shelves – These line our garage.  It is because of these shelves that we can have room for everything.  anything we don't need now goes in boxes out on the shelves.
Ikea cube shelves – These are heaven sent for small spaces.  I have no idea why it works, but it seems to hold more in those little cubes then it does on a standard shelf.
bins for shelves – These are varying degrees of sizes.  Get the size you need for the stuff you have.  don't waste space with a too big bin.
bunk beds – This is how we fit 4 kids in 1 room.  Bunk beds are great!  They even make a bunk bed with 3 beds!  I really want it.  do you think I could get it for christmas? 😉
shoe organizer – These have a billion different uses.  They have some that are cubes, others hang on doors or go under beds.  They organize all small items in your house in every room.  Use these!!!  They will make your life so much better and so much more organized.
Ikea kitchen utensil hanger – We use this everywhere.  Especially in our kitchen.  We never have enough space for the tools we need in our kitchen so we use the space on our walls for storage.
under the bed storage – In the kids room, we use this kind of storage for shoes, clothing that can't be hung and diapers.  These also have infinite amounts of uses for these.
tupperware bins for clothing – We have used these as under the bed storage and as stacking storage.
closet shelf  – Use your up space.  We stacked these on our shelves so they could have another shelf on top of the existing shelf.
command hooks and strips – These are the best invention.  Some people have had problems with them, but if you use rubbing alcohol and really clean the wall before you put it on.  They stay forever!
multi hook hangers – getting hanging hooks all over your house help to hang up things in a condensed space.
What items do you use in your house to organize small spaces?
Check out how we fit all our kids in 1 room!