Simple Bathroom Organization Ideas To Maximize Storage Space
Bathroom organization ideas can be hard to come by.  Bathrooms are all so different.  Different shapes, different sizes, different needs and jobs of those who use them.  Maximizing your storage space can be a very individual thing.  So it is important to keep in mind that even if you have to adapt them to your space, ideas can go a long way in a bathroom.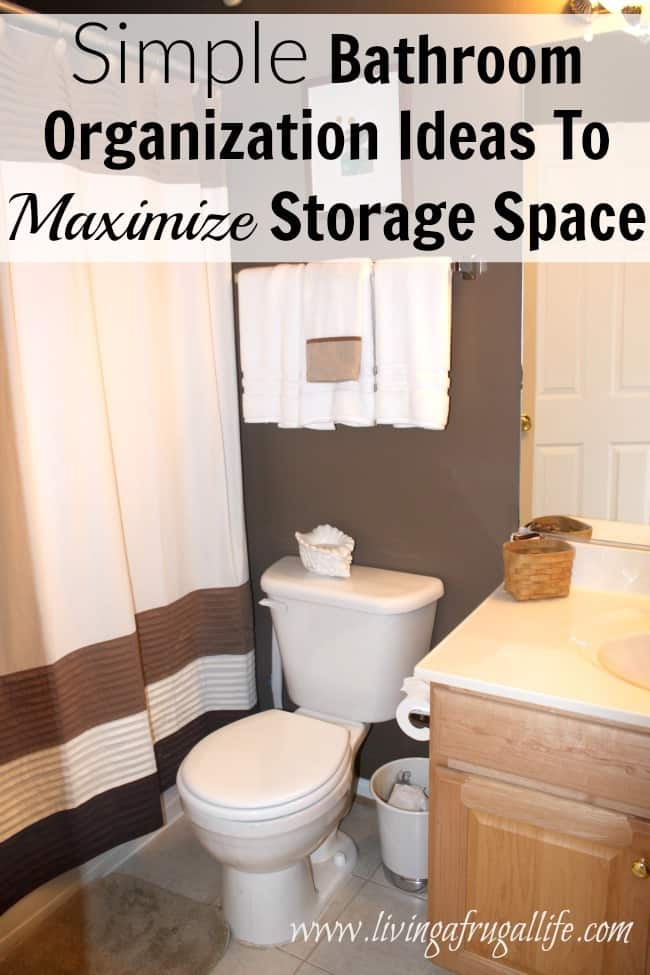 Below is our old bathroom.  That is right!  That little alleyway is a bathroom.  Where we ALL (that is 6 of us) had to get ready for our day, brush our teeth, do our hair, shower, use the bathroom. Everything!  2 of us can not stand one behind the other in there either. So there was no moving around once you're in there!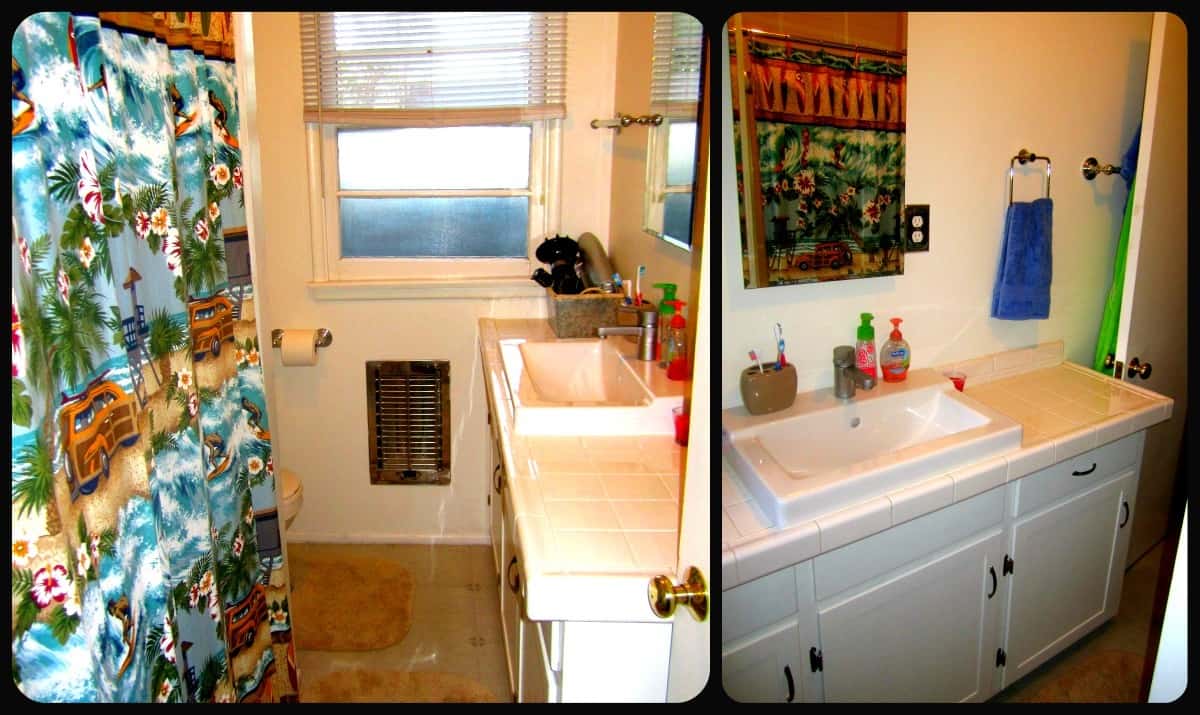 It was a challenge to do everything we needed in time.  I was not used to it, but a simple bathroom was a MUST!  I have never been good at getting rid of things; I was a saver for life!  Oh, and to make matters worse, This was also our only bathroom.
Bathroom Organization Ideas
I had taken extra care to make sure we only have what we need.  This was hard for me after having a stockpile for so long that took up a whole closet!  I had to make a change or else all the bathroom organization ideas I was about to try would never work in our tiny bathroom.
So the first thing I did when we moved was throw anything away that was old and not entirely used.  I combined bottles and kept only the type of products we were using.  I kept enough for about six months of that item and gave away or threw away the rest, even if they were not yet opened.
The best way to get started organizing your bathroom is to start with your stuff.  I think the bathroom is the worst part of the house for things getting held on to longer than they should.  People constantly try new products, some they like and others they don't.  The ones they like to get pulled to the front and those they don't like, get pushed to the back!  Oh, I am describing your bathroom??  We have all been there!!!
Oh, I am describing your bathroom??  We have all been there!!!  So start by getting rid of those items you don't need and it makes the rest of this bathroom organization nonsense a whole lot easier!
Cheap storage to maximize storage space
The first time I did this, I went through the entire stockpile.  I only kept the items we used and gave away the rest.  It felt really good only to have our needs in the house.  It made me feel like we could live in our space and live well in it.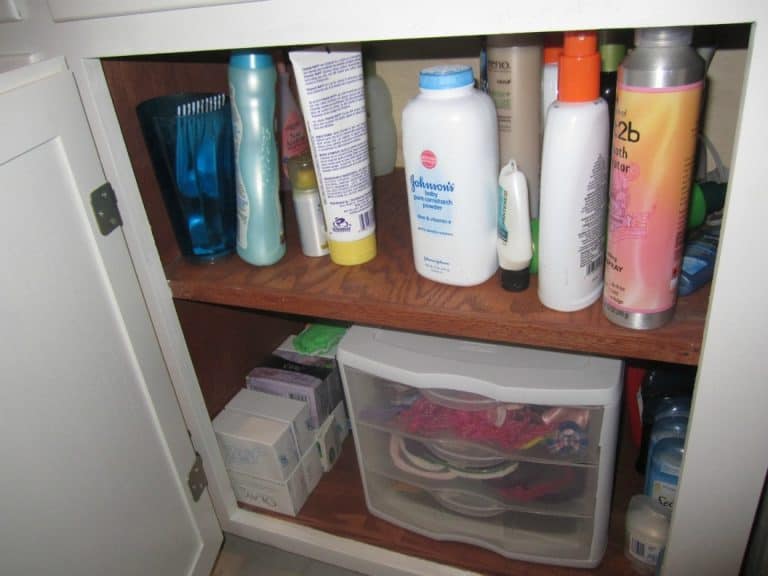 We were left with an organized small stockpile that fits in our space. But what about all the little trinkets and hair doohickies that didn't have a drawer to go in? I saw so many bathroom organization ideas that would never work in our space, so I found some cheap ways to maximize out storage space that we no longer needed.  I bought a three drawer stacker like this for headbands, rubber bands, and other small things.
There are also some great organization items at your local dollar stores that maximize storage space.  They have tons of bins or containers of different sizes that are perfect for may different organizational needs.  They are great for maximizing storage space in even the smallest places!
Bathroom cabinet organization tips
Cabinets are sometimes all different sizes and shapes depending on the space you have in your bathroom.  Some are tall with no shelves in them.  Cabinets like under sinks are usually hard to work around too.  Bathroom cabinet organization is best to use that space to the max by installing some organizers to hold items up.
I love these organizers that give you extra shelf space around the sink pipes.  They are even movable so if you have pipes on one side and not the other you can move the top shelves to the other side where you need the organization space.
For cabinets that are deep, I would suggest lining like items up so you can easily see what you have access it easily. I always do this with my extra stock of products.  Then I know how many of each item I have and when I need to buy more.
You can also get pull out drawers like these.  They give you extra space along with an easy way to access your products when you need them!
Bathroom towel organization ideas
Towels in bathrooms are a challenge for many people to organize.  They can be awkward and look very cluttered.  Here are some bathroom towel organization ideas that to give you some ideas to make them look beautiful.
Before you store your towels, Be sure to do a few things that will make them look neater and more organized.
First you will want to fold your towels, so they are all the same size.  This helps them look uniform and made them easier to stack.  Second when you stack them, you will want to put the fold of the towel out, so they look neat and clean.
Then you can store them in a few different ways. You can store them in a cabinet, or you can store them out int he open.  Here are some bathroom towel organization ideas if you don't have cabinet space for them.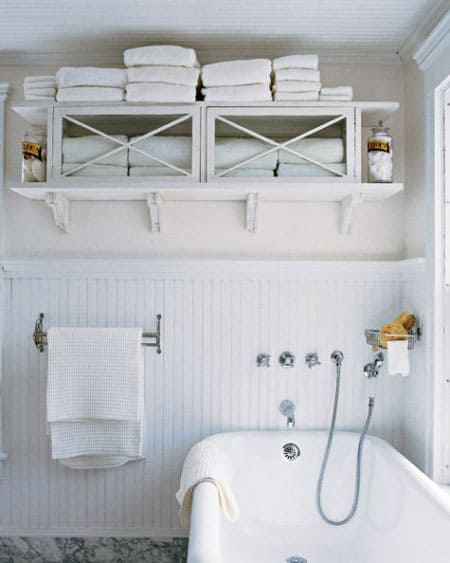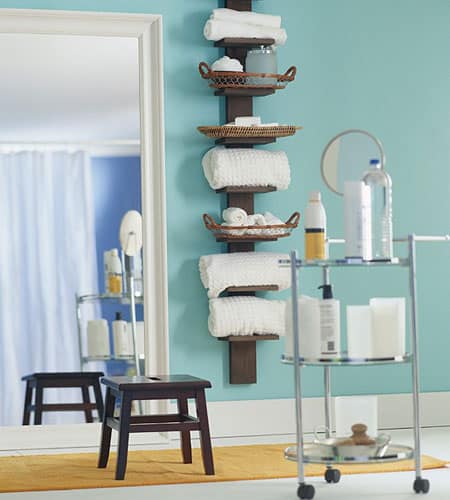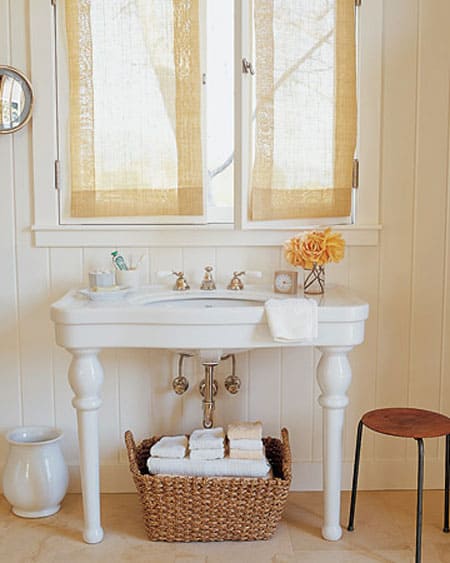 Bathroom drawer organizers
Bathroom drawers usually house so many little items that it is best to have some bathroom drawer organizers to keep them from getting everywhere.  Here are some bathroom organization ideas for your drawers to keep your items organized.
Bathroom organization ideas are an excellent way to simplify and organize your bathroom.  These ideas work for any size room with storage and without storage.
Check out these other organization ideas for your home!
What bathroom organization ideas do you have?