Valentine Card Tree Decoration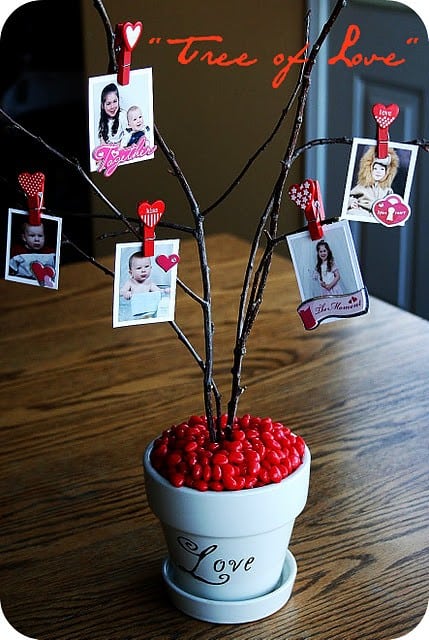 Just like Christmas, Valentines is a time for cards and love notes.  While we love them, they sometimes become clutter in our home.  I was inspired when I saw this "tree of love" idea, but I think I will change it up a bit to make it more of a functional decoration.  A Valentines Card tree!  I LOVE this idea of a valentines card tree to store the cute love notes you get.
All it is is a pot with something stable in it (beads, newspaper crumpled up, candy, ect.).  Then you take branches from outside and stick them in the pot.  then use clothes pins to pin the cards or love notes or pictures of those you love on the tree!  Hearts are another option for a frugal craft the kids could help with!
You could paint the clothes pins or just leave them plain.  A frugal option if you don't have a pot is to just use what you have at home.  We have lots of different sizes of vases or cups or even decorative bowls.  Any of these will work as long as they support the weight of the branches and cards.
What ideas do you have to use this tree for?  Leave a comment with the idea!
(adsbygoogle = window.adsbygoogle || []).push({});
Photo Credit : Tatertots and Jello