Easy Homemade Fabric Christmas Ornament for Under $5
Making your own homemade fabric Christmas ornament is not only fun, but it is a frugal way to decorate your tree for the holidays. If you are looking for a simple ornament craft to make during a fun girls night out or even on a snowy afternoon with the kids, take a look below at this simple fabric Christmas ornament tutorial.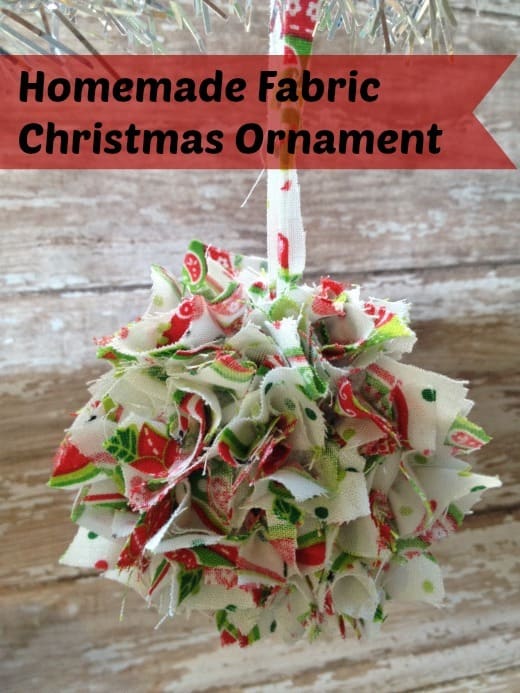 With just a few supplies, you can make your own handmade ornament that will no doubt brighten your home up this holiday season! Take a peek.
Supplies needed:
Styrofoam ball
Scrap fabric
Scissors
Pencil
Ribbon
Glue
I was able to find all of the above supplies at my local craft and dollar store. For the scrap fabric, use some you already have on hand or you can visit your local thrift store. Find old napkins, tablecloths, or even pillow cases that you like the pattern and colors and can cut up.
Directions:
1. Begin by cutting your fabric into 1 inch by 1 inch squares. These do not need to be exact, so you are welcome to freehand these.
2. Take one of your fabric squares and place it on the Styrofoam ball. Taking the tip of your pencil, press into the center of the square. It will then adhere to the ball, making the fabric nice and snug within the ball.
3. Repeat this process adding one square after another until the ball is covered.
4. Add a drop of glue to a piece of ribbon and nestle it into the fabric. Press it firmly to the ball so that it sticks. Allow some 15 minutes to dry.
How easy was that? These homemade fabric Christmas ornaments can be made using fabrics of any color or pattern, to give you all sorts of decorative options. They truly are a cinch to make and won't cost you much either. So head to your local craft store and gather the supplies to give these fabric Christmas ornaments a try.
Find more of these cute homemade Christmas Ornaments!