Easy Basic Whole Wheat Bread Recipe: Great for Sandwiches!
If you are Like me, you love a good basic whole wheat bread recipe.  They turn out soft bread that you can't get enough of.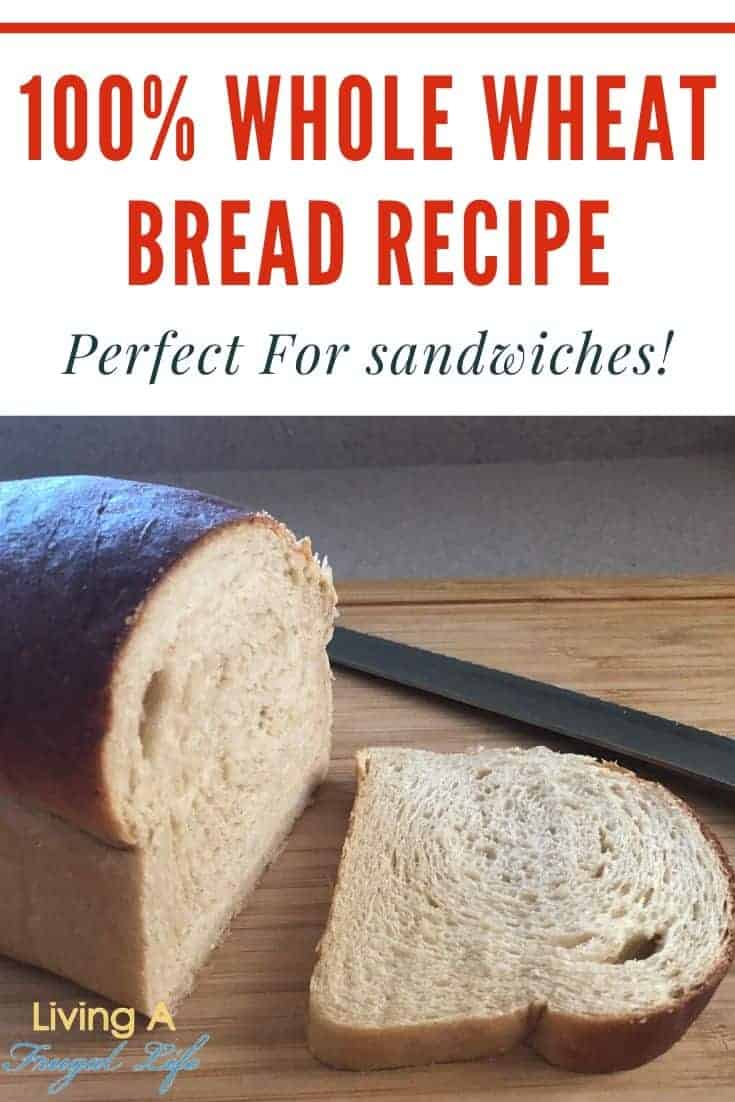 This sandwich bread recipe is no different! It is soft and will make any skeptic of homemade whole wheat bread a believer.
When I was first starting to make bread, my husband wouldn't eat it. Every recipe I tried was hard on the outside and dense on the inside. I wanted to make it so he would eat it and he wanted something more like store-bought bread. So I searched and searched and finally found a recipe similar to this.
He loved it, but I wasn't 100% happy with the recipe, so I started playing with it a bit until I was happy with the sugar content and also the elasticity on the bread. I have finally found the perfect balance which resulted in this amazing bread!
We all love it and I am able to rotate my wheat storage and make healthy bread for my family!
Basic Whole wheat bread recipe
This recipe will take you a couple of hours to make but you won't regret it because it is so easy.  There is no kneading by hand and no hard dense bread. Most of the time is waiting for it to rise. I like to make it first thing in the morning so it is ready for sandwiches at lunchtime.
This recipe is different than most because it has vital wheat gluten in it.  This is an ingredient I don't see many people using in their bread recipes, but it makes a huge difference in the texture and softness of your bread.
Bread is softer if it has lots of bubbles.  To have bubbles it has to have lots of yeast to grow into bubbles.  These bubbles will pop if there is not enough gluten in your flour or protein to keep the walls of the bubbles strong.
The vital wheat gluten mixed with the potato flakes and the vinegar gives the dough more elasticity.  That means that the dough will stretch more without breaking. This gives the yeast the strong walls it needs to grow.
Those strong walls make it possible for the whole wheat bread to grow strong and not fall as it rises.  This makes your bread soft while still keeping its structure. And as a bonus, it makes it easier to cut after it cools.
How do you make bread without kneading it by hand?
Kneading dough makes the dough all the same.  It also messages the air bubbles so they are uniform.  This was always done by hand for centuries.
along comes mixers with strong motors. These mixers were made to be workhorses.  They were also made with dough attachments. These attachments do the work for you.  So you can leave the machine on mixing and kneading and then you don't have to knead it yourself! Unless you want a work out of course. 😉
How to make homemade soft whole wheat bread
Ingredients:
(This recipe is for a single loaf of basic whole wheat bread.  If you want 3 loaves you need to double it.)
1 1/4 cup warm water
3 tsp active dry yeast
1/8 cup honey or 1/4 cup sugar
1 1/2 unbleached bread flour (I use ground soft white wheat in place of this at times)
1 tsp salt
2 Tblsp nonfat non-instant dry milk
1 Tblsp butter/margarine/oil
1 Tblsp vinegar
1/4 cup potato flakes (NOT potato pearls)
Instructions:
1. Mix all ingredients in order listed in mixing bowl of a mixer with the dough hook attachment (like a
KitchenAid
) for 12-15 minutes.
2. Cover with a towel and let the dough rise until double in size. This will take you approximately 1- 1 1/2 hours.
3. After it is finished rising, punch down the dough with your fist (be sure you wash it first) and make it into 3 separate balls of dough.  One per loaf.
4. Take each whole wheat dough ball and shape it into loaves. I do this by rolling out the dough and then rolling it up into a loaf.  pinch the ends and turn them under and pinch the seam to make it one loaf.  This makes the loaves even in the loaf.
5. Cover again with the towel and let it rise again until double in size. At this point, it is a good idea to preheat your oven to 375 degrees. After rising, the dough should be just above the top of the loaf pan.
6. Place in the preheated oven and bake 375 degrees for 20-30 minutes until golden brown and sounds hollow when lightly tapped.
That is it!  It is super easy to do and tastes better than any store-bought loaf you can buy.
Homemade Whole Wheat Sandwich Bread Printable Recipe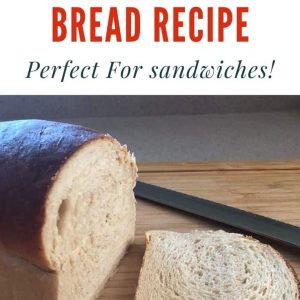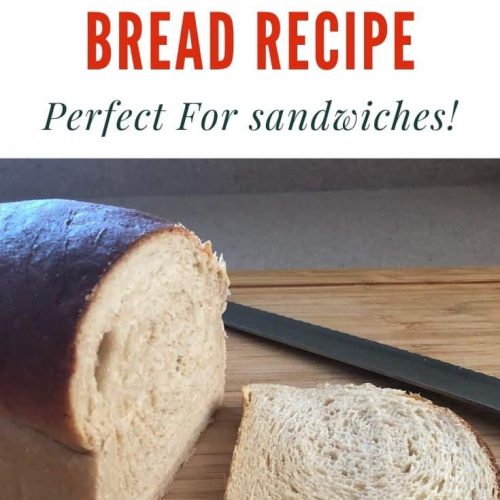 Homemade Whole Wheat sandwich Bread
Make this Whole wheat sandwich bread that your whole family will love. It is soft and tastes buttery and sweet. This makes 1-3 loaves of bread.
Instructions
Mix ingredients in order listed in mixing bowl of mixer with dough hook attachment. (you can hand mix it if you don't have a mixer)

Punch down and remove from the bowl on a floured surface.

Shape each ball into loaf and place in a greesed pan and cover with dishcloth

Preheat oven at 375 degrees

Bake for 20-30 minutes until golden brown and sounds hollow when lightly tapped.
I hope you love this homemade whole wheat sandwich bread.  It is my family's favorite homemade bread.  I love the buttery flavor and that it is so easy to make!
You may also like these posts from Living A Frugal Life.